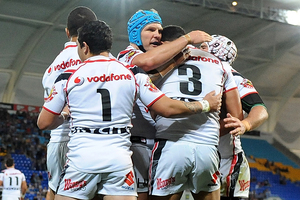 Presuming the more likely parts of the last-ditch plan work out, the Warriors will be left hoping one of two giant upsets occurs in the final round of the NRL.
Awful Parramatta will need to beat the Knights in Newcastle, or the almost awful Wests Tigers must overturn the North Queensland Cowboys in Townsville if the Warriors are to make the playoffs.
Game over Warriors, according to every pundit. The Knights and Cowboys have too much to play for, the Eels and Tigers are not up to the job. But wait - we have found glimmers of hope.
The Wests Tigers are a bogey team for the Cowboys - the Tigers' outstanding record includes beating the Cowboys in the 2005 grand final. The Cowboys suffered a huge blow in the last round when the game's best prop Matt Scott suffered a finger injury which rules him out for weeks. The Cowboys also have a clutch of good forwards missing, including their dummy half Ray Thompson who suffered a smashed jaw two rounds ago.
The struggling Tigers have shown recent glimpses of their trademark free-flow football and are led by one of the NRL's most respected competitors in Robbie Farah. They gave the powerful South Sydney Rabbitohs a decent hurry up in the last round. Benji Marshall, in his last game for the Tigers, might find a few extra drops of petrol in the tank and pull out one last array of tricks. And the Tigers have nothing to lose.
On to the Eels. Ah ... to be honest, it's hard to find any hope here. The Eels are shockers. They are a club in disarray. Their grumpy, stressed-out coach Ricky Stuart gave a host of players the don't-come-2014 slip in June.
They beat the hopeless Dragons, but club loyalty can't be high.
The Knights will know exactly where they stand by game time tomorrow. The Eels are paying up to $9 a win which says it all. If the Warriors need an Eels win to make the top eight, they'd be better off relying on a salary cap scandal, or Cronulla getting chucked out.