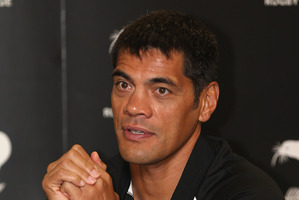 Dumping Benji Marshall as captain was a decision that Stephen Kearney thought he would never have to make.
While many others were questioning Marshall's suitability as skipper - in the wake of his less influential performances for the Kiwis in recent years, since the heights of 2009-10 - Kearney privately and publicly defended his leader.
As recently as last October, before the end of season transtasman test in Townsville, the coach was adamant on the subject.
"Benji's had an up-and-down year at the Tigers," Kearney told the Herald on Sunday. "It's been a bit of a rollercoaster for him but as far as I am concerned, he is is still the best man for the job. He enjoys the responsibility and is our leader."
About 12 months earlier, in the wake of a disappointing Four Nations campaign, Kearney maintained that the load (captain, playmaker, halfback, goalkicker) on Marshall was not too much and "something he could handle".
But since hitting fantastic heights in the 2010 Four Nations final, when he was the major catalyst for an incredible New Zealand comeback (he was also prominent during the creditable 2009 campaign), Marshall's star has only occasionally flickered at test level. While Cameron Smith was man of the match, Marshall was mostly ineffective in the Anzac test at Eden Park last year and part of a dismal, injury-hit tour to Great Britain in 2011.
"There is no denying it," Marshall said before the Townsville match, where he did perform with some credit, "I even say myself the last couple of years internationally I haven't played as well as I would've liked to. Whether that is down to putting the tricks away or not, people [can] write what they want. I lead by example and that is all I need to do. If other people think that I'm not the man for the job, that's okay. If the coach taps me on the shoulder and says I'm not the man for the job, then I'll listen."
Marshall is the epitome of pride in the jumper and in the same interview gave an insight into what the armband meant to him: "Just to be captain means the world to me and to represent New Zealand - there is no bigger thing."
Kearney wouldn't go into detail about what specifically caused him to change his mind on Marshall and wouldn't elaborate on if there was a particular moment that started the process of considering the change.
"I'm not going to go into form or any other issues," Kearney said. "Benji has been a great leader and this has been something I have agonised over. But my job is to extract the best from this team and I think this move will be good for the team and for Benji."
There is sense in Kearney's decision. Marshall plays the game on the edge - and is at his best when he takes chances - but that also brings the high probability of errors, a difficult situation for a captain. This is exacerbated against Australia; not many teams in world sport are better at pouncing on and punishing errors than the Kangaroos. Though Kearney didn't say it, there is a theory that Marshall was shackled by the responsibility of being captain and less able to come up with the maverick plays seen at NRL level.
It could also be a good omen for the Kiwis; there have been glorious days and iconic victories with leaders from the pack - think of Graeme West (1983), Mark Graham (1985), Hugh McGahan (1987), Ruben Wiki (2005) and Nathan Cayless (2008).

Play Virtual & Fantasy League - starts Thursday 7 March
Test your tipping skills with Virtual or create your dream team with Fantasy NRL and be in to win a slice of over $7,000 in prizes.
Be part of the game and sign up now.