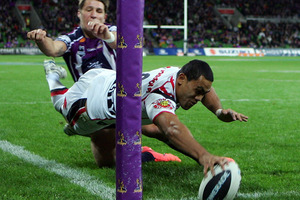 The scoreline might not suggest it, but the Warriors will hope their display against Melbourne last night proves to be something of a turning point this season.
They were beaten 32-14 by the competition front runners, who now have a perfect eight-from-eight record, but were level 14-14 with only 11 minutes remaining.
The Warriors were playing aggressive, intelligent football and putting considerable pressure on the home team who were making uncharacteristic errors. On top of that, the Storm barely made 20m in consecutive sets deep in their own half before hoofing it down field.
If the Warriors can play with that sort of attitude for the rest of the season, they will win more games than they lose. But they have been terribly inconsistent this campaign and turning that around is a significant challenge.
It's unlikely Krisnan Inu will get many chances to help do that. The mercurial utility, who slotted into fullback after five minutes when Kevin Locke was forced off with a painful sternum injury, made a series of errors that led directly to Melbourne tries.
In one instance, he merely dropped the ball when carrying it in his left hand only 10m from his own line.
"With Kevin coming off and Krisnan [Inu] moving to fullback, that didn't prove too good for us," coach Brian McClennan said diplomatically.
Inu is a match winner, and is remembered for scoring a stunning try for the Warriors against the Wests Tigers last season, but too often can be a liability.
The Warriors let themselves down in other areas and their left-edge defence let in four tries - they have now conceded 18 tries which is the worst record in the competition - but two of those came after errors from Inu. Inu's relocation to fullback also meant three players (Inu, Simon Mannering and Lewis Brown) spent time at left centre last night and the combined talents of Cameron Smith, Cooper Cronk and Billy Slater took advantage.
"They were very clinical," McClennan said. "But our goal-line defence didn't get up and put enough pressure on them.
"It was disappointing that we let it go as the game was a lot closer than that. It just compounded on us in that last 10 minutes but I am really proud of the effort of the team. For 65 minutes we were pretty well in the contest."
They did it without halfback Shaun Johnson who was left out of the side after failing to recover from the shoulder injury he picked up in Friday night's Anzac test. Pita Godinet was an able replacement, but Johnson is a key playmaker and there's a hope he will be fit to face the Broncos at Mt Smart Stadium next Saturday night (May 5).
There must be serious doubts Locke, who had only just returned after three weeks out with a corked leg, will recover in time.
"You get injuries and you just deal with it," McClennan said. "It's a bit hard to say [when Locke might return]. We are hopeful he will be back for the Brisbane game because there's a week-and-a-half turnaround.
"Shaun is a chance for the Brisbane game. He got a stinger in the test match. It's hard to tell how quickly you can recover from stingers because it's nerve damage. He just hasn't got the strength in his shoulder yet.
"Young Pita got his opportunity and had a pretty fair hit-out... but [Johnson] helps steer us around the field."
- APNZ