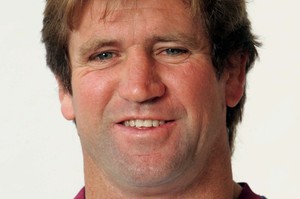 Canterbury coach Des Hasler claims it's impossible for the NRL to outlaw shoulder charges mid-season, and has called on the ARL Commission to make a call on the rules of the game - not hand it to the match review committee.
Hasler and the Bulldogs fought and lost a grade-one careless tackle charge imposed against Frank Pritchard in round one this season, following a challenge with his shoulder which caught the chin of Penrith winger David Simmonds, leaving him concussed.
Brisbane back-rower Ben Te'o was slugged with a grade-three dangerous tackle charge this week after knocking out Wests Tigers prop Matt Groat in a similar manner.
Te'o became the first player to be charged with such a high grading for use of his shoulder and Hasler said it highlighted an inconsistency in the rulings.
He also said that his belief at the time that Pritchard's case would set a precedent for all shoulder charges to be put on report had been vindicated.
"I like to think we started the ball rolling and I hate to say but, back in round one, one of the things we mentioned was that this was going to set a precedent and it certainly has," he said. "There is certainly inconsistency there and that is what we highlighted."
Hasler refused to be drawn on whether he wanted the shoulder charge to be banned from the game and said it would be difficult for coaches to tell their players not to use it during matches.
"There's a lot of talk out there about banning shoulder charges. Well, this should have been done in the pre-season - not round six or mid-season."
- AAP