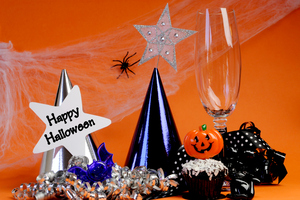 "No! you cannot roam the neighbourhood, begging for stuff that is full of sugar, half of which you're allergic to, from people you don't know, dressed to scare old age pensioners who celebrate Guy Fawkes not some fake American fiesta of consumer culture!"
About then I realised I had become the Grinch of Halloween - although a Grinch would probably be bang on style for a witching night.
There had been a time - pre small person, when I'd tried to get all down with the home-made mini carrot cakes. I sent the mad Latin out to hand them out. He came back looking puzzled and asking - in Spanish "What does 'Stink!' mean?'
I went to the door only to over-hear the bunch of orphans (that's what they said they were but to be honest they looked exactly as they had the day before) saying to the unwary batmen and fairies at the gate "don't go in there - she'll just give you some of this stink-as cake" and that was the end of my Martha Stewart moment with Halloween.
It ended badly anyway with the mad Latin scaring small children by chasing them to the gate and telling them to go home and get a proper dinner from their mums.
There was also something about it not being safe for small kids to be roaming the streets - which should have been evident seeing as he was chasing them and throwing his arms around and shouting in a foreign language.
Spend enough weekends in Henderson as a teenager and you lose the taste for fluoro and black and Halloween hairdos.
There is absolutely no rationale for pumpkin shaped or flavoured anything other than what is already an actual pumpkin either.
Pumpkin pie, with its tooth-withering sweetness, is enough reason to consider terrorism or joining a cult based on precepts of austerity - there really is no culinary excuse for it.
All Souls' Day - for the recently dead who have yet to make it to heaven - and its predecessor, All Saints' Day, are a whole other bag of other-worldliness.
Perhaps it's the Catholic upbringing or the fact that I love the aesthetic - or even the idea that mortal souls can become immortal simply by being so damn good that they can act as intermediaries when we are feeling fairly average.
Whatever the reason, the gilt-edged painterly depictions of Saints gone can mesmerise for hours. Happy afternoons were whiled away in dusty South American 'Santerias' or Saint shops.
For which of my friends should I buy a little statue of St Jude, Patron St of Hopeless Causes? Which one would St Monica, St of Alcoholics, help? To whom could I give away a little likeness of St Drogo - Patron St of Coffee, and inexplicably, Unattractive People? Francis Xavier Cabrini is a favourite, protector of emigrants and immigrants, and St Elmo is just the sort of gung-ho saint you'd need to protect ammunition, sailors and women in labour.
Halloween seems like the kitsch ugly sister to that other celebration of the underworld and afterlife, where we get to cherish those who've died by thinking of them and wishing them well.
Like the "Day of the Dead" skeleton brides in Mexico it reminds us of our own mortality.
Unlike Halloween, which just reminds me of pumpkin.