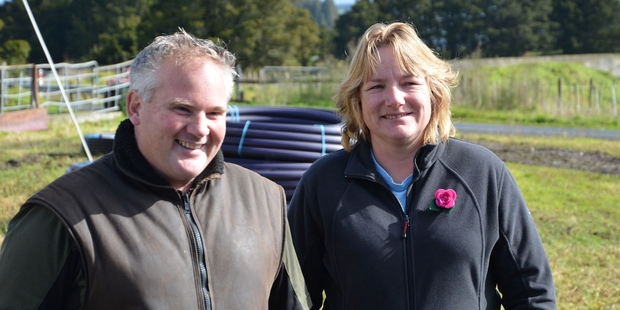 Doug and Chrissy Small are putting a brave face on their frustration over the delay in draining their flooded dairy farm alongside Lake Omapere.
About 80ha of the 242ha farm was submerged when more than 900mm of rain over the past month raised the level of the 1200ha lake by about a metre.
The Smalls, who farmed at Wellsford before moving to their Te Pua Rd property in April last year, have shifted all their young stock to off-farm grazing and were moving 40 of their 340 mature cows to another farm for milking at the weekend.
They say the lake's sole outlet is clogged with grass and debris. A contractor had told them removal of the blockage would clear floodwaters from their farm in three days. But the Maori-owned lake is administered by the Lake Omapere Trust, which is understood to support a claim lodged with the Waitangi Tribunal for restoration of the lake to the area it covered before blasting of the outlet last century lowered the water level to allow railway tracks to be laid close to the lake. Maori involved with the lake believe raising the water level would help overcome algae bloom that is a major problem there in summer.
Northland Regional Council chairman Bill Shepherd visited the farm last week, but Mrs Small said he had been more concerned about discussing his council's legal responsibilities than its moral responsibilities to help ratepayer flood victims.
The Smalls had met members of the Lake Omapere Trust and had found them "very friendly and on the same page as us".
"They are very concerned about the lake's health and were particularly worried about the way this flood has promoted the spread of alligator weed all over our paddocks and throughout the lake," Mrs Small said.
Grass in the flooded paddocks had died and would have to be resown. Mrs Small and her husband were hoping the lake outlet would be cleared and their land drained toward the end of this month.
"We are trying hard to be positive. All we want is to get our farm back," she said.