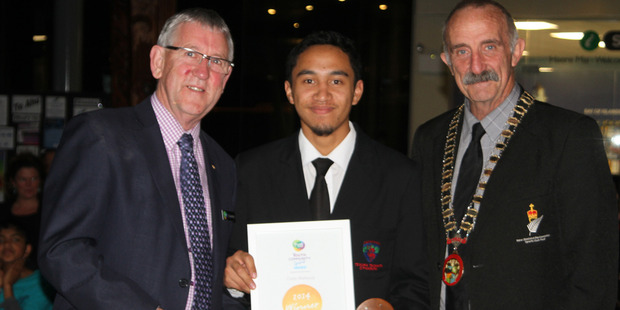 The winner of this year's Youth Spirit prize in the Far North Community Awards is North Hokianga teenager Cody Makaua.
Cody, who attends Te Kura Taumata o Panguru, won the award for his commitment to community causes despite a busy academic and sporting life.
Jess Somerville, a spokeswoman for Trustpower, which organises the awards in conjunction with the Far North District Council, said he spent two afternoons a week teaching his schoolmates kapa haka and the Maori martial art mau rakau.
"If it weren't for Cody's lessons many of these students wouldn't be involved in an extracurricular activities after school," she said.
He was a strong advocate for his fellow pupils, a Board of Trustees student representative, a Nga Manu Korero speech competition winner, and the male leader of the school's kapa haka group.
His contribution to, and skill in, performing arts made him a positive role model for Maori rangatahi, Miss Somerville said.
Cody was also a member of the Kohukohu Volunteer fire brigade and a Catholic youth group leader, teaching Christian values in fun ways to youth, organising activities and helping to run an annual camp.
"As a coach, student representative and humble, unassuming leader he is a very deserving winner of this award," she said.
Half his $500 prize money will go to the community group of his choice. The runner-up was Melissa Chapman of Springbank School near Kerikeri. All high schools in the district were asked to nominate one student for the award.
Other big winners in this year's awards included the students of Northland College and their art teacher Chris Wilkie, who turned a neglected corner of Kaikohe into a "Wall of Fame".
Unveiled in 2013 the project comprised 13 panels depicting 35 famous Northlanders mounted around Marino Court, also called Library Square.
Northlanders chosen by the student artists ranged from world unicycling champion Chris Huriwai and rugby star Rene Ranger to the late police Sergeant Paddy Whiu and poet Hone Tuwhare. Other panels were dedicated to historical figures such as the warrior chief Hone Heke and Maori Battalion commander Sir James Henare.
The Far North Community Awards were presented at Kaitaia's Te Ahu Centre on Monday night. The full list of winners is:
> Supreme winner: Focus Paihia
> Heritage and Environment: Puketi Forest Trust
Runner-up: Kaikohe and Districts Historical and Mechanical Trust (Pioneer Village)
Commendation: Herekino Landcare Group
> Health and Wellbeing: Whare Timatanga Hou Ora (Kaitaia Women's Refuge)
Runner-up: Mid North Women's Aid and Refuge
Commendation: Waimamaku Wild West Festival
> Arts and Culture: Chris Wilkie and the Northland College mural team
Joint runners-up: Far North Avocado Festival Trust, Hokianga Tui Tuia Trust
> Sports and Leisure: Kerikeri Netball Centre
Runner-up: Special Olympics Bay of Islands
Commendation: Hokianga Sailing Trust
> Education and Child/Youth Development: Bay of Islands Riding for the Disabled
Runner-up: Far North Holiday Camps
> Youth Spirit: Cody Makaua
Runner-up: Melissa Chapman