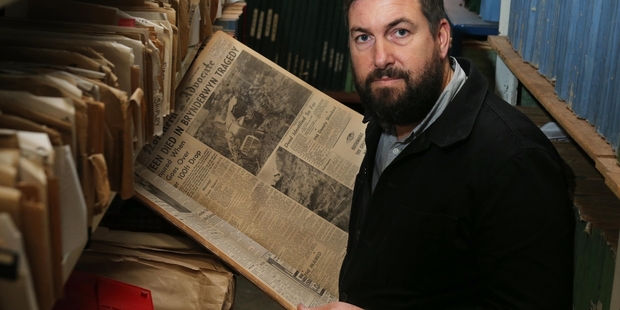 It's Northland's worst roading tragedy and now the death of 15 people in a bus crash on the Brynderwyns is to be made into a television documentary.
The producer of the television show has been in the Northern Advocate to look through archives related to an upcoming docu-drama based on the 1963 Brynderwyn bus crash, which left 15 dead.
Bryn Evans, writer and director, is working on the second season of TVNZ's Descent from Disaster, with an upcoming episode dedicated to the bus crash.
February 7, 1963 saw New Zealand's worst bus accident, when 15 people were killed (and 20 injured) after the bus carrying them back to Port Waikato, from Waitangi, crashed due to brake failure on its descent down the Brynderwyn Hills.
Archives held at the Northern Advocate are a vital link for the programme and are a welcomed sight by Mr Evans, who has spent the last few months researching the story and archive through microfilm.
"We usually cannot find originals and have to replicate these items for the television show," said Mr Evans while looking at the front page of the February 8, 1963, Northern Advocate. "But this is an amazing link, which we can utilise in the production, to have the original newspaper saved, it's outstanding."
This is not the only link connecting the Northern Advocate to this upcoming production. Back in 1963, a young reporter, Kevin Ball was left behind at the paper to "man the front desk", while other senior reporters, went to cover Queen Elizabeth's visit at Waitangi.
So when a call came it that a bus, carrying 35 people, crashed on the Brynderwyns, only Mr Ball was left in the office and able to cover the accident, thus making his name in journalism.
"It's a classic big break story," said Mr Evans. "And we will have [Kevin Ball] talking about that experience on the show."
Along with interviewing Mr Ball, the show, hosted by journalist Mark Sainsbury, will also talk with others who were touched by this story, either on site at the accident or loved ones of those who perished.