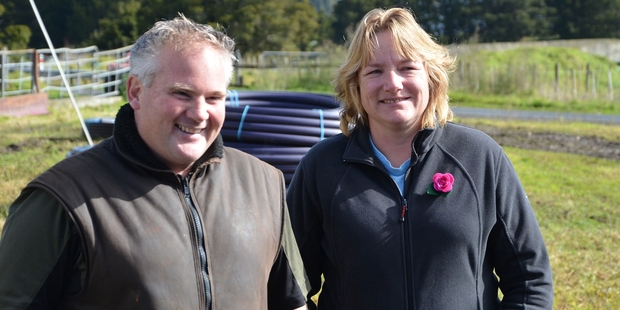 Doug and Chrissy Small are struggling to feed their 340 cows with a third of their dairy farm alongside Lake Omapere near Kaikohe flooded by recent rain.
They claim the lake's sole outlet is clogged with grass and debris and a contractor who cleared it in the past had told them it would cost $1500 for a digger to remove the debris, which would lower the lake 300mm daily and clear floodwaters from their farm in three days.
The Maori-owned lake is administered by the Lake Omapere Trust. The trust is understood to support a claim Kaikohe kaumatua Ron Wihongi has lodged with the Waitangi Tribunal, seeking restoration of the lake to the area it had before blasting of the outlet twice last century lowered the water level to allow railway tracks to be laid close to the lake.
Now trains no longer run from Kaikohe to Okaihau, Mr Wihongi and other Maori believe raising the water level would cure algae bloom and ease other problems afflicting the shallow 1200ha lake.
Mr Wihongi told the Advocate farmers with properties bordering Lake Omapere had for many decades had free use of about 280ha of shoreline land which lay within the lake before the water level was lowered.
He was hopeful the tribunal would hear the lake claim about 2017.
Mr Small said the boundaries of his 80ha of flooded paddocks were all within the title of his 242ha farm on Te Pua Rd by the southeastern side of the lake.
He accused the Northland Regional Council (NRC) of putting the outlet-clearing problem in the "too hard" basket because the lake was Maori-owned.
"It's not fair," Mr Small said.
"They could clean it up very easily and we could have our land back. We need help."
Regional council operations director Tony Phipps said there had been three site inspections of the lake-side farm since about 900mm of rain during the past month had caused flooding.
An estimated 12,000 cubic metres of rain water had raised the lake level about a metre.
Mr Phipps said regional council engineers believed clearing the lake outlet with a digger would make little difference to the Small farm.
"The outlet is naturally narrow and the bowl-shaped catchment fills whenever there's a storm," Mr Phipps said.
Although the regional council would not clear the outlet, the council was not stopping the Smalls from hiring a digger to do the job, he said.
But that would require permission from the Lake Omapere Trust. And while Mr Wihongi wasn't able to say what the trustees' decision would be if asked about clearing the outlet, he predicted trouble if the digger was put to work without consultation.