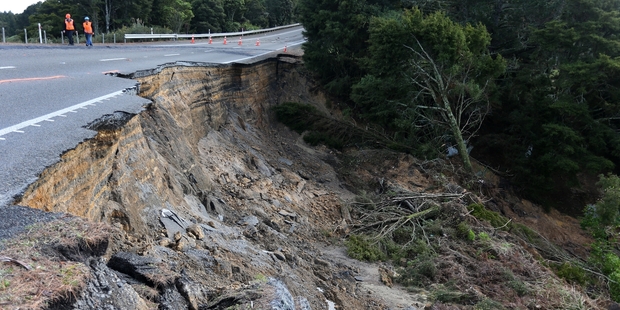 Work has begun on a temporary bypass round a massive slip that has closed Northland's main transport artery but workers say it will be months before the road will be completely repaired.
The slip scoured out a chunk of State Highway 1 south of Kawakawa and forced the road closure on Saturday morning.
Traffic had been diverted through Ruapekapeka and Mangakahia Roads but the increased traffic volumes had caused the surface conditions to deteriorate.
Late yesterday officials had closed Mangakahia Rd to heavy traffic and were considering closing it completely.
The New Zealand Transport Agency said SH12 was the official detour route, but the highway had been reduced to a single lane at Kaihu where the road had also slipped away.
Contractors Fulton Hogan had begun work on the major SH1 slip yesterday and had cleared away pinetrees for a bypass road to be built.
Fulton Hogan regional manager Keith Cocking was at the scene and said the temporary road was to the west of the slip and it could take at least a week to complete.
However, rebuilding the main highway would take months.
A geotechnical engineer was yet to carry out a survey of the site but that would determine how the road was to be stabilised and what repair work was needed before it could be opened. From today work at the slip would be 24 hours a day to get the road open as soon as possible. Repairs were also needed on slips at Kaihu, Mangamuka and Turntable Hill at Moerewa.
"The roading network has held up reasonably well but we will be busy for the next few weeks filling potholes," Mr Cocking said.
Motorists using the detours are being urged to take extreme care when driving on Ruapekapeka Rd which was available for use by cars and light four-wheel drive vehicles only. Roading authorities also closed Mangakahia Rd to heavy vehicles.
Civil Defence Controller Alastair Wells said there was concern over the volume of traffic using the roads as bypass routes.
"We are starting to receive reports of inappropriate driving behaviour and we would like to reiterate the need for extreme caution from all users of the bypass routes." A crash was reported to police at 8.30am when a truck and car collided on Ruapekapeka Rd yesterday.