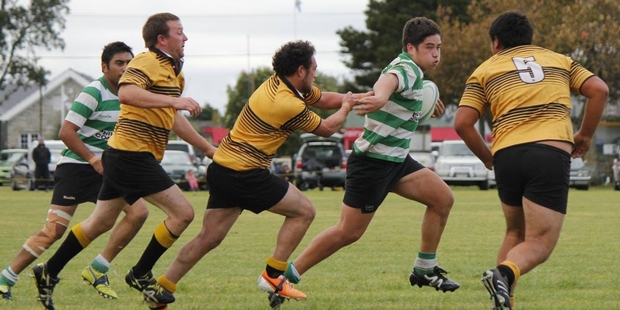 A Northland organisation working with people who have suffered a brain injury is calling for all rugby players to wear protective head gear following the death of a teenager of suspected brain bleed a day after a club match in Whangarei.
Otamatea rugby player Jordan Kemp, 18, died a day after a suspected head clash during a club match between Otamatea and Old Boys Marist at Kensington Park on Saturday.
Family and friends were making their way to the Otamatea Marae yesterday to await the arrival of his body from Auckland where he died in hospital on Sunday.
His tangi and funeral details were expected to be decided after a korero at the marae late yesterday.
The Brain Injury Association Northland is now calling for rugby players to wear some sort of protective gear such as a helmet to prevent knocks or concussion.
Liaison officer Ove Kjaer said although the use of head gear may not be made compulsory, he encouraged players to use it to minimise the risk of suffering a concussion during clashes.
"Even if it doesn't prevent all injuries, it does help."
However, New Zealand Rugby (NZRU) medical director Dr Ian Murphy said they were continually discussing player safety and prevention of head injuries but head gear had not been shown to reduce the incidence of concussion.
"We have a great injury prevention RugbySmart education programme that is compulsory for all our coaches, at all levels of the game to attend, every year ... and our protocols are clear - players must stand down for a mandatory minimum three weeks after a concussion, and they must be cleared by a GP as part of their graduated return to play.
"We are always looking for ways to make the game safer but it is a contact sport."
Jordan had received the world's first blue card after he suffered a head knock earlier in the season. He was removed from the field and followed NZRU protocols.
He had been back playing for a number of weeks without suffering concussion symptoms and was required by the club to wear headgear for some of that time.
Jordan came from a rugby-loving family whose grandfather Russell Kemp is a well-known coach in Wellsford and Maungaturoto areas.
Russell Kemp's cousin Kim Phillips said the boy had been a "typical youth" with a passion for rugby.
"He was a bright, happy boy who lived to play rugby. It's just a waste of a life."
Jordan Kemp's triplet Crishla thanked everyone through her Facebook page for their support while grieving her brother.
"I'm staying strong for you bro because I know you would stay strong for me."
Northland Rugby Union (NRU) chief executive Jeremy Parkinson said a qualified trauma and grief counsellor had been made available to both clubs involved.
National MP for Northland Mike Sabin, whose son Darryl suffered a catastrophic brain injury five years ago during a rugby game but pulled through, said the wider community would really be hurting from such a tragic loss of life.