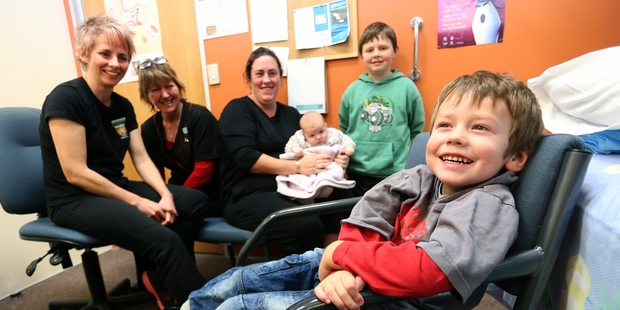 A Whangarei mum is urging other parents and caregivers to ensure their children are immunised against measles with health officials saying it's only a matter of time before an outbreak of the nasty disease reaches Northland.
Sarah Ritchie-Warren yesterday took four-year-old son Fabian into the Bush Road Medical Centre in Kamo to get him his measles, mumps and rubella (MMR) injection, something she sees as a vital prevention measure.
Northland Medical Officer of Health Clair Mills said 238 cases of measles have been reported this year so far from Auckland, Waikato, Bay of Plenty, Lakes, Hawkes Bay, Taranaki and Wellington, with over 100 cases from a recent outbreak in a high school in Hamilton.
Measles is easily transmitted and with a Hawke's Bay measles sufferer recently visited by people living in Northland, Dr Mills said it is probably only a matter of time before measles spreads north, especially with school holidays approaching.
Dr Mills is urging people to ensure their measles vaccinations are up to date, saying immunisation is the best protection from this potentially serious disease.
"Measles can be a very serious illness, with one in three sufferers experiencing complications such as ear infections, pneumonia, bronchitis or diarrhoea," she said.
Ms Ritchie-Warren said it was so important to ensure her children were given as much protection as possible and after Fabian had two life-threatening problems when he was young, she was all about prevention.
When he was about three months old Fabian was found to have a serious bowel problem that saw him nearly die after surgery. He then developed peritonitis, which again saw him close to death.
"When you nearly lose a child like that prevention is very, very important. After going through that you'll do anything to prevent something like that happening again, you are just so protective of your children."
She said young Fabian was a bit apprehensive before his jab, but "he was fantastic, and back playing X-Box shortly afterwards so it can't have affected him."
Dr Mills said the measles vaccine - which is free for people who have never had measles or who haven't had two MMR injections - is effective and has eliminated measles in many populations.
One dose is 95 per cent effective, and with two doses it is close to 100 per cent. "Secondary failure" - the vaccine not giving protection - is rare internationally and not been found when analysed in NZ. Studies looking at immunity 20 years after vaccination show more than 95 per cent of people still have good protection - active antibodies - against measles.