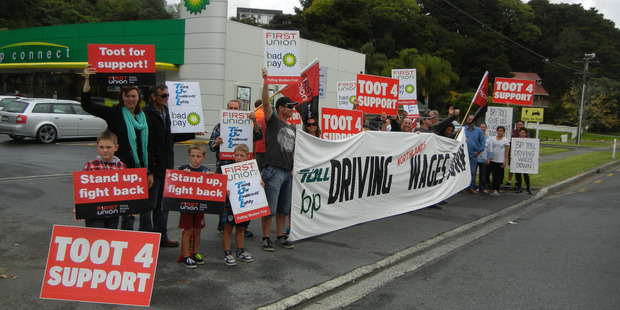 Non-striking Toll drivers covering shifts for their colleagues on strike in Whangarei aren't being made to work more than the hours stipulated under law to ensure on-time supply of fuel, the company says.
Toll New Zealand Group general manager Greg Miller said claims by First Union that the company breached the Transport Act with reference to log books have been investigated by the police's commercial vehicle investigation unit. The audit of GPS and logbook data validated Toll's compliance and safe operating performance, he said.
Six of the eight drivers employed by Toll Carriers in Whangarei went on an indefinite strike nearly three weeks ago, demanding a rise of about 2 per cent from the $20 to $25 an hour they now get.
Toll Carriers, owned by Australian-based Toll Group, is contracted to supply fuel to 32 Gasoline Alley Services (GAS) and seven BP service stations throughout Northland.
Mr Miller said safety was Toll's priority and it would continue to deliver fuel in Northland, however, BP had taken over delivery of some of its work to ensure continuity to customers.
"We will continue to negotiate with the union and our employees in good faith, and implore the union to do the same."
After talks in Wellington last Friday failed to reach a settlement, the striking drivers resolved to step up protest action at BP service stations nationwide.
The union claimed Toll failed to put forward a decent wage offer in discussions held on Friday but Mr Miller said the company reviewed its drivers pay rates annually, and in each of the past five years had applied annual increases.
"Toll New Zealand's pay structure is based on its drivers completing competency assessments over a period of time to reach the top pay level which is in-line with its competitors," he said. "Toll continues to negotiate in good faith, and does not agree with the misrepresentation of facts by the union, however we are hopeful of reaching an agreement shortly."