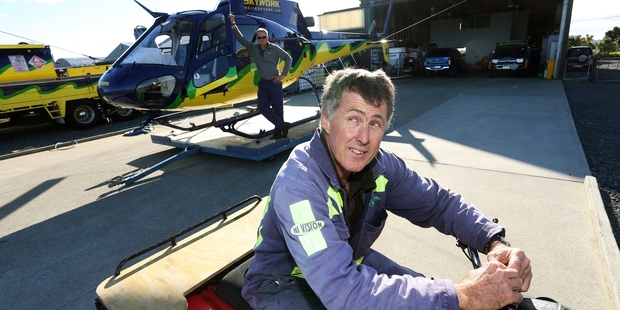 It was a case of a hawk circling its prey when a Whangarei helicopter company used one of its choppers to track down its stolen quad bike.
The red Honda quad bike, valued at $2500, was stolen from outside the hangar of the Whangarei division of commercial helicopter company Skyworks about 4.45pm on Thursday.
Skyworks ground crew Chris Roberts was seeking shelter from the rain inside the Onerahi airport-based hangar when he heard the quad start up. He spotted the thief heading to the road.
"It's unusual because there are no other quads here. I heard it going past and came out and saw a person riding it on to the road," he said.
He immediately called police and while on the phone was radioed by Skyworks base manager pilot Remco Coenra, who was in the air and flying back from Bream Head.
The pair discussed the theft and a quick-thinking Mr Coenra flew low over Onerahi.
He focused on Raurimu Ave, close to the airport, figuring no one would be stupid enough to ride an unregistered quad without a helmet on the main road into central Whangarei.
"It seemed to me the most likely place it would be," he said.
Sure enough, Mr Coenra's passenger in his chopper spotted the missing red quad parked at an address just around the corner from the airport.
"It was just sitting in someone's backyard.
"I let my ground crew know where it was and we circled around it until the police arrived," he said.
The helicopter's arrival from Bream Head had been perfectly timed.
"I certainly wonder about the feasibility of stealing a bike from a helicopter company," Mr Coenra said.
However, when police got to the address, the suspect had scarpered, taking the key with him.
"They took the key, so we had to tow [the quad] back home to the airport," Mr Coenra said.
The quad is used to tow the helicopter and trailer into the hangar at the end of each day.
A new key is arriving from the South Island today. For the past two days, Mr Coenra has had to tow the helicopter with his ute - a much more difficult task.
"I just want my key back," he said.
No arrests had been made and police were still making inquiries, a Northland police spokeswoman said.
Anyone with information on the theft can contact Crimestoppers on 0800 555 111.