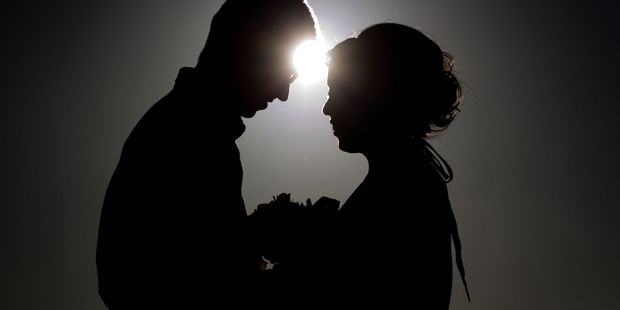 The number of Northland couples tying the knot is dropping, while hundreds of other marriages are ending in divorce.
Statistics New Zealand figures released show 545 couples were married in Northland last year, compared with 647 the previous year and 579 in 2011.
Marriages dropped across all three districts, mirroring a national trend which has seen the number of marriages drop to its lowest point in 13 years.
Divorce numbers varied between districts with 269 Northland couples parting ways last year. The number of divorces was up from 2012 but experienced a modest overall drop since 2011.
Bay of Islands marriage celebrant Ida Birch said inquiries were booming, especially following the legalisation of same-sex marriage. Recovery from the global financial crisis had also helped boost bookings, as couples were prepared to spend money on their big day again.
"That lovely little light at the end of the tunnel is close."
Northland couples were moving away from more traditional weddings, wanting the day to be personal and unique. This included personalising decorations, music and writing their own vows. Whangarei marriage celebrant Susie Abraham said couples were waiting until they were "a little bit older" before getting married too. "Young brides and grooms used to be in their early 20s. I wouldn't say that now."
There were 19,237 New Zealand resident marriages, dropping below 20,000 for the first time in more than 12 years, Statistics New Zealand said.
Family First NZ said the figures are a "warning bell" to society over the benefits of marriage. "The question we must ask is whether the decreasing rate of marriage has been good for society. The evidence suggests that it has caused untold harm and cost," national director Bob McCoskrie said.
However, divorce numbers also dropped from 8785 in 2012 to 8279 last year.
Of the 19,237 marriages last year registered to New Zealand residents, 209 were for same-sex couples - legalised in New Zealand a year ago. A further 2416 marriages were registered to overseas residents, including 146 same-sex marriages.
There were also 187 civil unions registered to New Zealand residents, and an additional 46 to overseas residents. The number of same-sex civil unions almost halved compared with the previous year. Kiwis were also waiting longer to get married, with the median age for men edging up to 30.1, and 28.6 for women, Statistics New Zealand said.