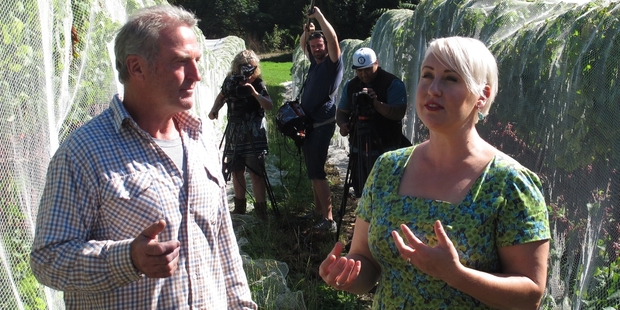 A major new wine-making project will put Northland on the map as a wine region, TV presenter and wine expert Yvonne Lorkin says.
Lorkin, who also writes the Advocate's wine column, has been in the Bay of Islands filming an episode of Thirsty Work, a wine series broadcast on FoodTV (Sky channel 9).
Filming focused on The Landing, a new wine estate on the Purerua Peninsula in the northern Bay of Islands.
Owned by Kaitaia-born multi-millionaire Peter Cooper, the vineyard started seven years ago with a 2ha trial of chardonnay and syrah, varieties suited to Northland's climate. New plantings will expand the area in grapes to 10ha by the end of the year.
All going well The Landing will eventually produce about 6000 cases of wine a year. Northland's current production is just 12,000 cases.
Lorkin said she had been blown away by the richness of Northland syrahs she'd sampled on her travels through New Zealand's "oldest young wine-producing area".
While New Zealand's first grapes were planted at Kerikeri in 1819, serious wine-making only started in Northland in the 1980s. The Landing would give the profile of Northland wine a major boost.
"I'm really looking forward to telling the story of this great new wine-making project," Lorkin said. "It's really going to put Northland on the map."
Marsden Estate winemaker Rod MacIvor is also making The Landing's wine.
He said the project excited him because it combined history and new wine-making methods. The Purerua Peninsula was the site of New Zealand's first European settlement and the first place Maori and Pakeha came together.
Northland's challenges to winemakers included its humidity and rainfall, but that could be countered by planting on slopes exposed to drying breezes, and using thick-skinned varieties less likely to split. The advantages included the lack of frost and a long, even growing season.
Mr MacIvor said the 2013 season had been fabulous and the current season promised to be even better, with plenty of sunshine and rain at just the right times. The last grapes were due to be picked this week. .
"We've had back-to-back great vintages," he said.
The Northland episode of Thirsty Work is due to screen later this year and is to be broadcast internationally.