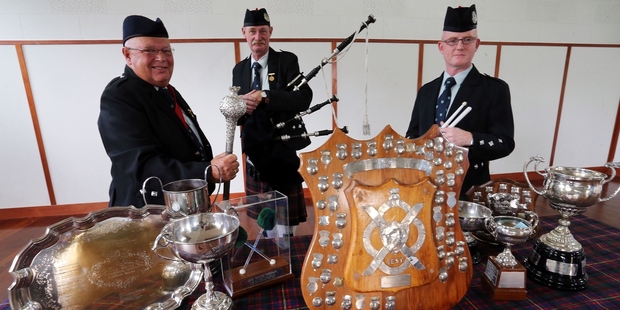 Over the past few months, many people will have heard the distinctive sound of pipes and drums as the Whangarei and County Pipe Band worked towards their competition season.
The hours of hard work and effort came to fruition earlier this month when the band won the Grade Three title at the New Zealand Pipe Band Championships in Tauranga.
Led out on to the arena by drum major Barrie Tinsley, the 32-strong band played two competition events, the March-Strathspey-Reel and the Medley.
Although the band felt that both events had gone well, no results were announced until after all the bands in Grades Three and Four had completed their performances, some three hours later.
The tension during those hours was matched by utter jubilation when the Whangarei and County Pipe Band were named winners of the MSR and Medley events. This achievement was further enhanced the next day when drum major Tinsley led the band to victory in the Street March event, ending the contest weekend with a clean sweep of events.
Pipe band president Leanne Field was delighted. "It has been a fantastic season for the band and it is so satisfying to see all of the dedicated musicians reap the rewards of their effort," she said.
Pipe major Bain McGregor and drum sergeant Neil Mogey were also extremely happy with the results. Planning has begun to ensure the band continues to improve and achieve during the 2014-15 competition season.
It is possible this win may see the Whangarei and County Pipe Band promoted to the more advanced Grade Two. This will be decided by the Royal New Zealand Pipe Band Association, which will consider the level of the band compared to other bands in Grades Two and Three.
The band wishes to thank the people of Whangarei for their support and encouragement during this competition season. Anyone wanting to find out more about the band can email whangareipb@gmail.com