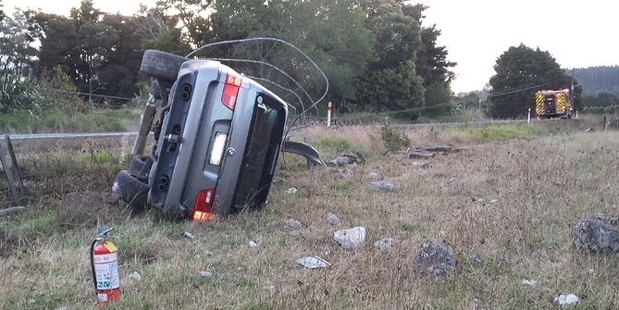 The driver of a stolen BMW fled on foot after demolishing a fence and a power pole in a crash on State Highway 12.
The smash occurred at 7pm on Monday at Taheke, west of Kaikohe, leaving the car wrapped in the power pole's reinforcing rods and the power lines down.
Kaikohe Fire Brigade station officer Wayne Powdrill said the driver ran off before emergency services arrived.
The car had ended up on its side in a paddock so traffic was unaffected.
A Top Energy spokesman said 422 households lost power for 15 minutes until electricity could be brought in by another route. Another 236 households were in the dark for six hours while the power pole was replaced and lines repaired.
Kaikohe police urge anyone with information about the crash or the person driving the BMW at the time to call the station on (09) 405 2960.
Also on SH12, about 20 minutes later, two cars collided outside the Omapere Fire Station in South Hokianga. It is thought one vehicle was turning into a driveway next to the station. The injuries were minor and treated at the scene.
About 5am yesterday a vehicle rolled on SH12 east of Kaikohe. The crash was not thought to have led to serious injury.