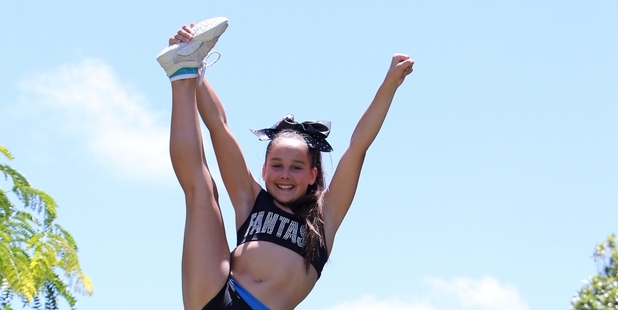 Northland cheerleader Grace Hegh is flying high with doctors' clearance to tumble again after fearing her dream of competing in the US may have been shattered by an accident.
The 11-year-old cheerleader was at her fundraising event last November when the wind picked up the inflatable track she had been tumbling on and flicked her tiny 29kg frame over a car and head-first on to concrete. Her mother, Andrea Hegh, remembers looking up from the boot of her car to see Grace flying over her head.
Grace was rushed to Whangarei Hospital with a head injury that required stitches, a sprained hip and a dislodged growth plate in her elbow.
Five weeks later, aided by intense physio and strength conditioning, she's been cleared by doctors to tumble again. She is continuing to raise funds to get to the All Star Games in Las Vegas in April.
"Last week was the first week she was back to being Grace with a sparkle in her eye," Mrs Hegh said.
"We are definitely full steam ahead for the All Star Games. We've never taken her mind off them as it would have crushed her."
Because of the head injury, Grace remembers nothing of the accident: "When we were in the hospital and the doctors told me, I was pretty mortified," she said.
She was discharged the next day, but required daily check-ups for two weeks, forcing the Okaihau residents to stay in Whangarei.
Mrs Hegh said Grace was emotional and frustrated during this time, particularly given she couldn't remember the accident.
Ongoing effects included forgetfulness, but that improved daily, Mrs Hegh said.
Grace grinned from ear to ear when asked how she felt being back in the gym this week, able to speak only in adjectives such as "amazing" and "magnificent". And she had an extra reason to smile. Her idols - coach, mentor and top US tumbler/gymnast Kristen Steingruber, and Team NZ members and top tumblers Dylan Grant and Dan O'Neil - surprised her by turning up in Whangarei and dedicated this week to helping her comeback.
"The second she got clearance to tumble, we came up here," said Ms Steingruber - who'd only just left Northland after spending Christmas with the Heghs. "It's time to get Grace back into action before America."
The Heghs have raised $4850 of the $10,000 needed for Andrea and Grace to travel to the All Star Games. Donations are still welcome and the auctions which were cut short after the accident will be listed on Trade Me. The fundraising account is ANZ 06-0977-0800220-00 and the auctions can be found on Grace's Facebook page.