Police apologise after judge finds complaint faults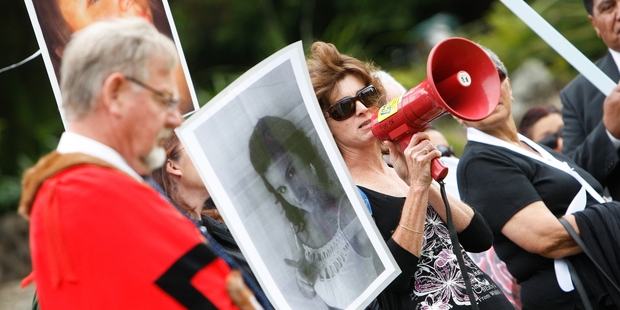 A Northland mother hopes changes made by police when dealing with domestic violence will stop other families from suffering the trauma of losing a loved one.
An investigation by the Independent Police Conduct Authority (IPCA) has found complaints from Northland mother-of-two Ashlee Edwards about protection order breaches were never properly investigated by police.
Ms Edwards, 21, was killed about two months after she made the complaints.
The 30-year-old man she had complained about was charged with her murder and placed in police custody, but has since been ruled unfit to plea.
He will appear again in the High Court at Whangarei on May 14.
Ms Edwards lodged complaints with police after the man allegedly breached a protection order on two occasions in May 2012.
Northland police district commander Superintendent Russell Le Prou agreed police failed to protect Ms Edwards.
Staff had been disciplined and had faced serious consequences.
"I am saddened by this incident and with the lack of response by the officers who did not take proper ownership of Ms Edwards' complaints and follow them up with urgency."
Ashlee's mother Karen Edwards said she was angry the officers involved had not carried out their duties when it came to investigating her daughter's concerns.
"I think if they had simply done their job and followed through they could have saved Ashlee's life," Mrs Edwards said.
"We are kicking ourselves now that we didn't keep pushing for something to be done."
Mr Le Prou has personally apologised to Ms Edwards' mother for the police failure to keep her daughter safe.
Ms Edwards' death was a constant reminder police need to be vigilant in their response to victims of family violence, he said.
According to the IPCA report, four different police officers from the Whangarei and Kerikeri stations handled the family violence report, formed after Ms Edward's first complaint. Due to poor paperwork, communication between officers and staff leave, it took more than two weeks for someone to investigate.
The authority chairman, Judge David Carruthers, said there was a failure among all of the police involved in the case to take ownership of Ms Edward's first complaint and to appreciate the urgency and significance of the situation.
"The need for immediate action to be taken in this case was emphasised by Ms Edwards and support agencies, but various shortcomings within Northland [police] district meant this was not recognised and ultimately, this undermined people's safety," Mr Carruthers said.
The investigation into Ms Edwards' second complaint also highlighted serious problems with police systems.
A fifth officer, based at Kawakawa, responded to Ms Edward's second complaint on the day it was laid and issued a warning.
They had no idea another complaint had been laid only days earlier.
The officer decided against making an arrest after deciding the incident was isolated and the suspect was not an immediate threat to Ms Edwards.
Northland police have also improved their response to family violence incidents in the district. Some of these changes included the appointment of a district victim manager; introducing an effective tasking system which treats victim safety and offender accountability with urgency; introducing new initiatives that focus on repeat victims, including victims of family violence.
Karen Edwards hoped the changes would help other victims.
"The best thing is police have acknowledged their mistake and have done something about it.
"They have had to step up and make changes and these could save other people's lives and that's all we can ask for."