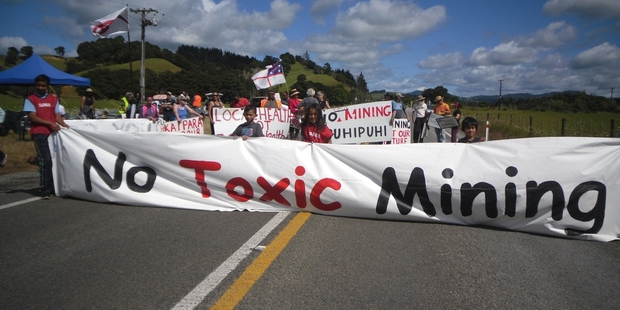 A group opposed to mining at Puhipuhi wants the Government to talk to them after the protesters made their point by blocking State Highway 1 for two hours.
The Puhipuhi Mining Action Group yesterday held a protest against silver and gold mining, and associated mercury pollution, at the intersection off SH1 and Waiotu Block Rd from 10am to show its opposition to mining in the nearby Puhipuhi Hills.
Spokeswoman Jenny Kirk said more than 60 people turned up to protest.
A change just granted to its exploration permit conditions means De Grey Mining is likely to start drilling for silver and gold at Puhipuhi, 30km north of Whangarei, this summer. It allows the Western Australian company to meet its work programme obligations on exploration by April 2014.
The company bought the five-year permit, originally issued in 2009, from Newmont Waihi Gold a year ago.
Ms Kirk said before police diverted traffic along Waiotu Block Rd and onto Jordan Valley Rd around the protest the group received plenty of support from motorists stopped on the highway.
"Then we had people giving fliers out to people on the bypass route. Then at one stage police said the congestion was getting pretty bad on the bypass route so we opened one lane of the highway to allow traffic through," she said.
"We felt we made our point pretty well. We want the Government to come here and talk to us about this issue - they haven't spoken to us yet - and we even have some alternative proposals for creating employment in the area."
Ms Kirk would not go into them at this stage, nor the group's next round of protest action as she did not want to give away its tactics.
"We have real concerns about mercury in the Puhipuhi Hills polluting the ground and water from this exploratory drilling and we feel the Government should come up to talk to us about this,' she said.
"These hills are riddled with mercury throughout them, and any disturbance of the mercury from exploration drilling would leak into the local waterways. Disturbance of the mercury in this area has previously caused illness in farm animals and killing off of grasslands and other vegetation."
Ms Kirk said the protest was held on a piece of land owned by Ngati Hau under native title.
Meanwhile, the Green Party supported yesterday's protest and wants the Government to withdraw the permits it has issued for gold exploration over old mercury mine sites in Northland.