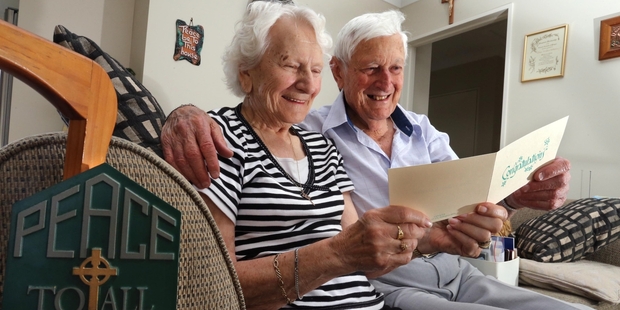 Northland couple Jack and Vera Katavich will get medals from Pope Francis for their service to the Catholic Church.
They will be presented with their papal Bene Merenti medals and a framed award by the Catholic Bishop of Auckland, Bishop Patrick Dunn, at a ceremony in the St Francis Xavier Catholic Church in Whangarei at 10.30am on Sunday.
It will be a rare honour. It is understood they will be only the 10th and 11th New Zealanders to receive the medal, first awarded by Pope Pius VI (1775-99) to recognise military merit and since 1925 awarded to recognise service to the church.
Jack, 85, and Vera, 79, were born to Catholic migrants of Dalmatian descent who settled in the Far North before the parish of Kaitaia was formed in the early 20th century.
Throughout their married lives, the couple have been deeply involved in parish life. Mr Katavich spent many years on the parish council, at least 12 of them as chairman.
A spokeswoman for the Auckland diocese, Lyndsay Freer, told theAdvocate the couple had undertaken extensive fundraising for the Kaitaia parish and were very generous with personal financial contributions to the church.
"They have offered unfailing hospitality to the priests and members of the religious orders who have worked in their parish over many years.
"Their home has been a second home for priests appointed to that parish," she said.
The Katavichs had also been kind mentors to ageing Sisters of Mercy who worked in pastoral care in the parish. They were also involved in the parish liturgies and behind-the-scenes matters of parish administration.
Mrs Katavich was also involved with the spiritual welfare and visitation of Catholics in the Switzer home for the elderly in Kaitaia.
While a member of the Far North District Council, Mr Katavich had worked to improve the lifestyle of many people, especially the Maori people of the district, Mrs Freer said.
Mrs Katavich had a stroke over two years ago and the couple moved from Kaitaia to the Jane Mander retirement village in Whangarei to be close to medical services.
"Their contribution to the church and to community life has been enormous and is being recognised by the award of medals from Pope Francis to acknowledge their service to the church and the appreciation of the church community," Mrs Freer said.
The medals caught the Katavichs by surprise but they were delighted to accept the honour.
"I must have been a good girl. This has come from out of the blue," Mrs Katavich said.