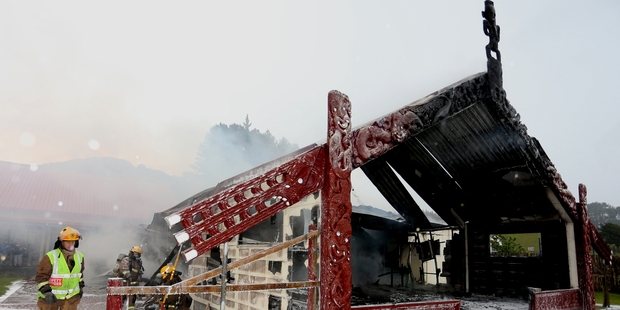 Two children, aged 3 and 6, playing with a lighter are believed to have sparked a fire in a pile of mattresses that destroyed the Mokau marae wharenui.
There was little fire crews from Whangarei, Hikurangi and Russell could do to save the building that was well involved when they arrived after the alarm was raised about 1pm on Friday. Water was pumped from a nearby creek but the wharenui was left a mess of buckled corrugated roofing and charred carvings.
A toilet block and storage area close by were also extensively damaged.
Specialist fire investigator Terry Baylis was called to the scene shortly after the fire service were notified of the blaze and returned again on Saturday when it had been revealed to him two children had been spotted by teaching staff running from the marae screaming just as smoke and flames were also seen.
Mr Baylis said he had spoken with staff at the Mokau Kohanga Reo, just over the fence from the marae, and two children had gone into the marae through an unlocked back door.
Mr Baylis determined the fire had started in 40 mattresses stacked on the floor and he said it was extremely lucky the two youngsters had left the building quickly otherwise there could have been two fatalities.
"They were seen coming out of the marae and one child had a lighter. There were attempts made to put the fire out but it was well involved.
"It wouldn't have taken long for the polyurethane mattresses to burn and they are so toxic.
"You wouldn't want to be in an enclosed space with that smoke," Mr Baylis said.
It was a harsh reminder for adults to keep matches or lighters out of the reach of children.
"I'm really surprised and annoyed these kids could get their hands on a lighter ... that fire didn't need to happen."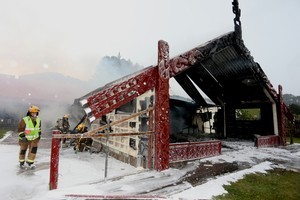 He would be contacting senior staff at the kohanga and parents of the children to discuss enrolling them on the Fire Awareness Intervention Programme as soon as possible.
"It's a mighty learning curve not just for the marae but everyone in the community to keep matches and lighters away from children," Mr Baylis said. A guard was on the scene Friday and Saturday nights until an insurance assessor inspected the building yesterday.
The Northern Advocate rang the kohanga yesterday but was unable to contact anyone for comment.
Marae chairman Dave Scott would not comment on children being involved with the fire and said he was meeting with members of the community late yesterday to discuss what action they would be taking.
"We can rebuild a marae but thankfully no one was hurt," he said.
Fortunately the wharekai, which was undergoing renovations, was not affected by the fire.
He said in the meantime there had been overwhelming support coming in from locals and those with links to the marae who were overseas.
Donations had been made to the marae bank account.
Carvings from the front of the marae were going to be removed and inspected by carvers to see if they could be salvaged.
Mr Scott said tenders would go out as soon as possible for the demolition work to be done before rebuilding, which could cost $300,000, would begin.
Whangarei police Detective Sergeant Aaron Crawford said police were still investigating and were yet to speak with the parties involved.