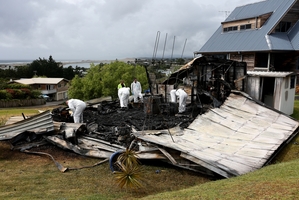 A suspected methamphetamine lab has been uncovered in Northland after a cooking pan caught fire and destroyed a house.
Two men who were inside the property - a shed that had been converted into a house in Cullen St, Mangawhai Heads, - are in custody and were to appear in the North Shore District Court today on drugs charges.
Head of the organised crime police unit in Northland Detective Sergeant John Clayton said clandestine laboratories were getting larger and the scale of methamphetamine production and other illicit drugs was increasing in the region.
"Most of our crimes through gangs are P [methamphetamine] driven and I have no doubt that there's a hell of a lot of P floating around in Northland," he said.
Three fire appliances from Mangawhai, Kaiwaka and Waipu, plus a hazardous materials team from Whangarei were called to the scene of the blaze on Thursday at about 5am. Senior Constable Graham Gough of Mangawhai said one male occupant of the house suffered minor burns to a hand while another escaped unhurt.
He said the fire was being treated as suspicious and police believed the house was being used as a clandestine lab.
Experts from Environment Science and Research (ESR) at the scene had located several items of interest, he said. Those items were understood to be substances used to manufacture methamphetamine.
Mr Gough said the two men were not from the area but were staying at the house.
Whangarei-based fire safety investigator Craig Bain was helping ESR sift through the charred remains inside a cordoned area guarded by a police officer.
Mr Bain said the house was burning so intensely when firefighters arrived they had to battle the blaze from outside.
The hazardous materials team had decontaminated firefighters at the scene before they returned to their base.
Waitemata police are handling the case as Mangawhai falls under their jurisdiction, unlike the Fire Service and local territorial boundaries which lists the area under Northland.
Waitemata covers the area north of Auckland City from New Lynn, North Shore and Devonport to Mangawhai in the north.
Police statistics this year revealed the district as having the most clandestine labs, followed by Counties-Manukau, Waikato, Auckland, Bay of Plenty and Northland.
Mr Clayton said several processes were involved in the manufacture of P and the use of highly flammable and volatile chemicals could easily cause an explosion. Major clan-lab discoveries this year included one aboard a launch at Parua Bay in February and a shed that exploded in Kerikeri.
In November last year a major methamphetamine operation was shut down by police in the Far North and nine people were arrested with $154,000 in cash and $300,000 worth of methamphetamine seized.
In 2011 a toxic methamphetamine lab and indoor cannabis-growing operation were uncovered just metres from a childcare centre at Parakao, about 40km west of Whangarei.
Fumes from the methamphetamine cooking process can be toxic and cause serious health issues.