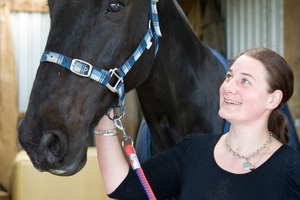 Kelsi Halliday reckons she has her life back free of drugs and alcohol thanks to a couple of equine healers.
The young Whangarei mum hit rock bottom and went through rehabilitation, but it was her experience on the Horses for Healing course that has seen her regain her confidence and allowed her to tackle her mental health illness.
"These horses have given me my life back," the 24-year-old mother of one said.
"My whole concept of life and mindset has changed. I focus on the positive things in life and the horses help to do that."
Kelsi, who is also bipolar, has been clean and sober since June last year.
Trusty steads Hope and Kauri have in their quiet horsey way plodded along taking Kelsi on a ride of recovery.
"I used to have a horse when I was 8 years old. So for me it was taking me back to the simple times before life got hectic.
"Working with the horses has given me the confidence to sit through a job interview. Because dealing with a 17 hand high horse in a bad mood makes doing a job interview very easy."
Kelsi has learnt about mucking out stables, grooming and tacking up before getting on a horse's back.
But when she first joined the course she weighed in at more than 100kg. The maximum weight for riding the horses was 90kg - so she started a weight loss programme which saw her shed the necessary weight to enable her to take the next step in her healing with horses and that's on horseback.
"When I first started coming to horses with healing I was very nervous about what I was going to be doing.
"I know the power behind a horse but it's a trust thing that develops over time. And as that developed I got more confidence."
Her father has noticed a huge change and reckons he is getting his girl back.
She becomes emotional when she talks about the changes others have seen in her since her involvement with the horses.
"That makes me feel good," she says with a tear in her eye.
"It's about finding your way through the tough times and I don't let the crap affect me so much these days."
The horses and trainers have recently moved to a new base at Saddle Up riding centre, on Mangakahia Rd.
Arataki mental health community support worker Hazel Squires heads the course and personally knows the healing powers of horses.
After Hazel's husband died of a brain tumour she reached a low point.
"There have been times in my life when horses have been my saviour, so I know they work."
She said horses were non-judgmental and people learnt bit by bit and together they developed a bond over the 10-week course.
The theme for Mental Health Awareness Week, starting on Monday, is "connect".
The Mental Health Foundation said connecting with others was the most powerful tool to have for feeling happy and mentally well!
"Connecting isn't only good for our mental health. People with strong social lives perform better on memory and cognition tests. Regular social interaction maintains brain vitality - it reduces stress levels, which helps maintain healthy connections among brain cells," a spokeswoman said.