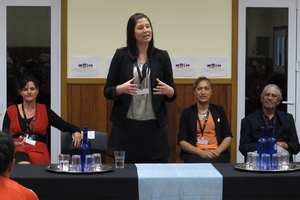 A Far North marae is trying to boost local turnout in the council elections to 85 per cent from the current less than one in three.
The importance of getting Maori involved in local government was the key theme of a candidates' meeting at Moerewa's Otiria Marae on Wednesday night.
Regional council candidate Solomon Tipene said the number of Maori putting their names forward for this election was unprecedented.
He said Maori were hoha [fed up] with their lack of representation and put the change down to the looming Treaty settlements, which would make Maori self-reliant and a power to be reckoned with, as well as proposed local government reform.

Other politicians were also starting to realise Maori made up close to half the Far North population, he said.
Two of the seven Far North mayoral candidates are Maori, as are close to a third of the 33 candidates contesting council seats.
Marae member Mylie George said an initiative called the Otiria Marae Whanau Hui was working to get youngsters involved in marae life and to make Moerewa people more politically aware. The marae had nominated whanau members for council and community board positions and was encouraging people to get out and vote.
It had a six-year plan to lift voter turnout in the Moerewa area to 85 per cent from the current figure of around 30 per cent, Ms George said.
Mayoral candidate Rueben Taipari Porter told the audience he was not in the race to win.
''I'm just using this as a platform so our people can get a voice. I'm here to lift the presence of te iwi Maori. We want our people to start taking part in what's around them.''
Mr Porter said local government was just as important as central government, and if Maori weren't happy with council decisions they had to get involved.
''We can hikoi, we can kangakanga [swear], but we also need to be part of it ... So go back to your whanau, find the voting envelope they've thrown behind the TV, make them fill it out and you deliver it yourself. You can make a real differencefor Ngapuhi-nui-tonu,'' he said.
The meeting drew about 50 members of the public and 15 candidates, including four of the seven would-be mayors - Wayne Brown, Ann Court, Mita Harris and Mr Porter. Community board and regional council candidates were also invited.
The audience was issued with a series of heckle cards showing a bull on a toilet, a waffle, and a nail being hit on the head. The waffle card saw little use, thanks to meeting chair Tukaha Milne, but the bull card got a workout when the contentious issue of the cycle trail through Ngapipito Valley came up.
Ngati Hine leader Pita Tipene said it was the most entertaining candidates meeting he'd been to.
Other topics discussed included the need for a ''Motec'' tertiary training institute in Moerewa, mining, rates, Kawakawa's indoor pool, community board powers, and the need for more processing of raw materials such as logs.