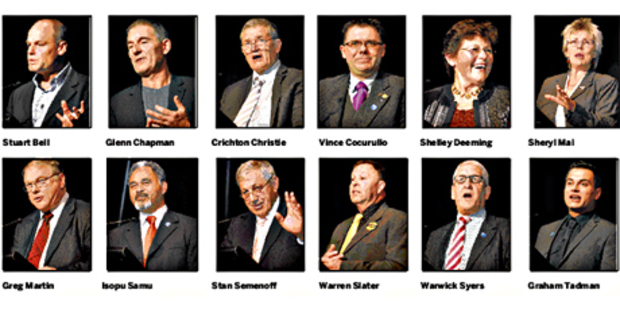 The Whangarei mayoralty race is the most intense in years with 12 people wanting the district's top job, and it seems public interest is just as high if last night's first meet-the-mayoral-candidates evening was anything to go by.
Well over 500 people packed Forum North Exhibition Hall last night to hear all 12 - Stuart Bell, Glenn Chapman, Crichton Christie, Vince Cocurullo, Shelley Deeming, Sheryl Mai, Greg Martin, Isopu Samu, Stan Semenoff, Warren Slater, Warwick Syers and Graham Tadman - say why they deserved the job and answer questions from the Northern Advocate, Northland Chamber of Commerce and Classic Hits FM, who organised the event.
Ms Deeming said she had a history of working with communities and listening and would bring prudent spending to the job. Roads, rates and rubbish were basic council jobs and she would limit rate rises to the Local Government Capital Index. Ms Deeming is anti-Hundertwasser Arts Centre (HAC) and would instead support local arts and culture.
Mr Slater said the district needed genuine change and he could provide that.
Mr Slater had been to more than 350 council meetings in the past seven years, which showed he was committed to understanding council workings. He pushed affordability and wanted council debt forensically audited.
Ms Mai said her council would reconnect with the people and her three planks were the economy, the environment and the community. She would ensure the rail link to Marsden Pt went ahead and work on creating more employment opportunities. Ms Mai would move the mayor's office to the ground floor of Forum North to be more accessible.
Mr Syers said he had the skills, experience and leadership for the job, through his business, council and life experience. He would focus on growth, social improvements, fiscal responsibility and reducing capital expenditure. He backed HAC only if the funding could be found.
Mr Christie said Whangarei deserved better than it had been getting and he was the most experienced local body politician among the 12. He said he had three main areas: the economy, brining fiscal discipline back and involving ratepayers more in decisions. Mr Christie would introduce annual referenda on key capital expenditure projects.
Mr Cocurullo said the district had a choice to make and he wanted to get Whangarei moving again and increase employment. He was upset at the number of businesses closing down and they were closing because they were finding it to hard to do business in the district. Mr Cocurullo said that had to change and he was the man to change things.
Mr Samu said as a former teacher and police officer he was focused on working with the district's young people who were the future. He said he had the ability to deal with all people.
Mr Semenoff said his track record of running the council in a fiscally responsible manner while getting major projects done - such as the Town Basin development, Kamo Bypass and new bridge - was what he was about. He said people could expect more of the same if he was elected.
Mr Martin said he was opposed to HAC, but behind local artists and also relied on his track record with the council.
Mr Tadman said he knew what poverty was like in Whangarei and had experienced discrimination. He would bring compassion to the role.
Mr Bell said he was transparent and what you saw was what you got. He is a cycling advocate and would promote passive recreation activities.
Mr Chapman said nine candidates had current or previous council experience, had a been mayor or stood unsuccessfully for the role before yet were now talking about changing things or doing things better.
Results of the straw poll from last night's meeting will be on the www.northernadvocate.co.nz website today and the Northern Advocate's Facebook page.