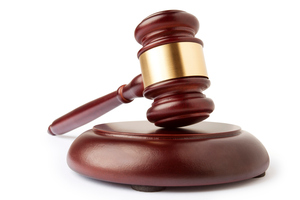 A Northland lawyer has been struck off the list for misleading his client on multiple occasions.
The fate of Gregory Bryden Clarke, of Dargaville, was decided by the New Zealand Lawyers and Conveyancers' Disciplinary Tribunal at a hearing last week.
Following the hearing, the New Zealand Law Society said it was the second time Clarke had been cited for misconduct.
New Zealand Law Society president Chris Moore said Clarke was instructed by a client to file a claim in the Disputes' Tribunal but he did not do so.
Mr Moore said he misled his client on a number of occasions, saying he had filed the claim, and that a hearing date had been set.
No claim had, in fact, been filed and the client found this out when he contacted the Disputes Tribunal, Mr Moore said.
Mr Moore said it was fundamental in the Lawyers Conduct and Client Care Rules that a lawyer must always act competently and in a timely manner.
"Any lawyer who has been retained by a client must complete the services which that client requires unless there is good cause not to," he said.
"That was not the case with Mr Clarke and the Law Society will always view such transgressions very seriously."
The tribunal will release its written decision later.
In 2006, he pleaded guilty to charges of failing to hold clients' funds received into his firm's trust account, and made false entries into the account to conceal the misappropriation of $23,618, which he paid back within five months.
He was suspended from practising for three months from December 21, 2007 and ordered to make available his practice for inspection at three-monthly intervals for two years from March 2008.
The audit inspector was to be made available by the New Zealand Law Society but for him to meet the cost.
Clarke was also ordered to take advice in relation to the management of his practice at his own cost.
He was ordered to pay $4793 to the Auckland District Law Society and $1533 towards tribunal expenses.
Clarke refused to comment when contacted by the Northern Advocate at his Dargaville home.