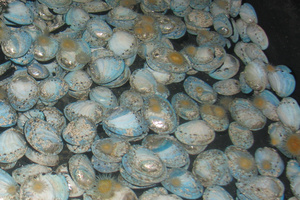 A dairy owner driving to Auckland with four shopping bags crammed with 20kg of illegal paua was caught after she crashed her car.
Turntable Hill near Moerewa proved to be the downfall for Yizhen Jenny Wang, a 49-year-old Kaikohe dairy owner.
Wang, a Chinese national commuting between businesses in Kaikohe and Auckland, was not injured in the February 3 crash.
However, police called to the crash scene found bags of partially frozen paua in her car.
Wang was back in Kaikohe this week in the District Court for sentencing after admitting possession of paua and unlawful possession of fish for sale.
Judge John McDonald fined Wang $3500.
Fisheries officers had counted out 150 shucked paua but it was difficult to measure their individual sizes.
It appeared all were under the 125mm limit. Wang had more than eight times the daily limit for paua.
Wang explained she had been working in her Kaikohe dairy when two men offered to sell her paua on January 30. She refused, but the men approached her again three days later. She met them at a local cemetery later and paid $300 for the bags of paua.
Officers said because of the quantity, condition, size of paua, the packaging and the way they were bought, it was believed the paua were going to be sold.
Commercially, paua similar to those seized, when sold through legitimate retail outlets, cost at least $40 per kilogram.
Just last week a Richmond man was sentenced to 11 months in prison after being found guilty of paua poaching. He had more than 10 times the daily limit of paua, most of which were undersized.
On July 3 last year, after an anonymous tip-off, fisheries officers caught Day Van Tang, a seasonal horticultural worker, as he left a diving spot on the Kaikoura coast and was driving back to Nelson with his brother.
In his car, officers found two sacks containing 139 paua; nine of which were already shucked, and 115 were undersized.