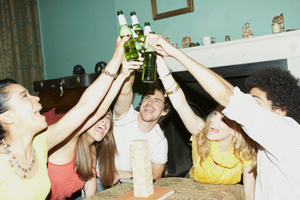 When I decided to take a break from alcohol I wasn't sure if I would be able to go six weeks. I'm sure plenty of my friends didn't think I'd make it either. Not because I'm an alcoholic, or because I rely on alcohol to have a good time, but because knocking back booze is so heavily embedded in our 20-something culture that it seemed like living without it would be a battle.
Over the last six weeks I've chewed the fat at cosy bars, hosted people at home, been to a couple of gigs and enjoyed dinner dates, all sans alcohol. I'm not asking for a medal. But I have to admit that I'm pretty chuffed with proving to myself that great fun can be had without alcohol. I have saved lots of money and I forgot what a hangover feels like. There hasn't been a day wasted feeling sorry for myself, apologising for the night before or craving strawberry milk and hot chips.
Giving my body a chance to experience a dry life has put me in the best shape of my life - physically and mentally. Maybe I need to eat a teaspoon of cement, but thriving isn't as easy when you're dehydrated and depressed after a big night. I have much more motivation and I feel well.

So if life was all roses without alcohol why don't I declare myself teetotal forever?
I don't like the idea of banning something from my life. I try my best to listen to my body and treat myself in a way that makes living feel good.
It makes me feel happy when I go wine tasting with my man friend. I love sharing a G&T in the sunshine with my flatmates. I enjoy breaking the ice with new people over a couple of glasses of pinot noir and popping a bottle of Moet with old friends. Beer, well, I don't really miss the heavy, glum belly that I get after a couple of bottles, so I don't think I'll be wrapping my lips around an ale anytime soon.
But overall, I enjoy the vibe that alcohol can induce. It can be fun and freeing - it just needs to be enjoyed with some consideration for the consequences. So this is my stop, after six weeks, I'm hopping off the wagon. It's been a refreshing ride.
Cheers.
Follow Life & Style Editor Nicky Park on Twitter.