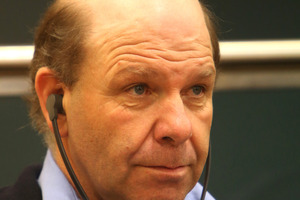 A victim of violence and sexual abuse at the hands of her husband says she stayed with him for more than two decades because he threatened to kill her parents.
Susan Cochrane was repeatedly raped and she and her seven children beaten by Allan Titford for 22 years before they finally summoned the courage to leave their Northland home.
Titford, 53, was this week sentenced at the Whangarei District Court to 24 years jail with no minimum non-parole period after being found guilty of 39 charges including assault, sexual violation, arson and fraud.
The offences occurred between mid-1987 and July 2009 but Titford, a failed Far North mayoral candidate in the last election, still maintains his innocence and refuses to accept the jury's verdict.
Ms Cochrane said Titford kept her as a prisoner and robbed her children of their childhood, repeatedly beating them with a belt, shovel, hammer, fists and a plastic pipe.
She told Radio New Zealand her husband would continually threaten her with the deaths of her parents if she told anyone what was going on.
"And it took ages before I even told my own kids the reason why I wouldn't leave."
In recent years her children would ask her why she did not escape.
"I finally said to them, he told me he'd kill my mum and dad and if they died then he'd go to their funeral and he go there and he'd find us."
It was not until her older children started self-harming she chose to leave and called Women's Refuge.
Ms Cochrane said early in their marriage, her husband admitted sinking his boat in the early 1980s for the insurance payout.
"He put an axe through the hull or something and I've heard a lot of information from other people on how he stripped the boat before taking it out to sea."
Titford bought another boat with the payout, which he later sold to put a deposit on a farm.
Titford came to prominence in the late 1980s and early 1990s over a dispute with the Crown over a farm he owned at Maunganui Bluff.
The land was subject to a claim by Maori and was eventually bought by the Crown to give to the hapu. Titford claimed that the local iwi, Te Roroa, had torched his home and caused plenty of other damage to his farm during the dispute.
But a jury found him guilty of the arson.
Ms Cochrane said her husband burned down their home to pressure the Government into offering a generous compensation deal.
Alex Nathan, a Te Roroa kaumatua, said the hapu had not yet met to discuss the news, but he was pleased the truth had finally come out. "It has vindicated us," Mr Nathan said.