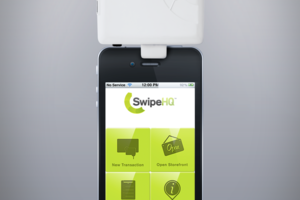 The way we take payments from customers is changing fast. It won't be long at all until small merchants can plug a chewing gum packet-sized card reader into a smartphone or tablet and swipe credit cards.
Already smart merchants are saying goodbye to the mobile EFTPOS terminal and taking ecommerce payments over their tablets.
Other nearly-with-us futuristic developments for taking payments include being paid direct from a customer's mobile phone.
We're a hair's breadth away from the launch of smartphone and tablet card readers. Swipe HQ's device is the leader in New Zealand. This small swipe machine plugs into a smartphone or tablet and can be used to swipe magnetic or chip credit cards. It can't yet handle EFTPOS payments.
Manas Kumar chief executive of Optimizer HQ, which will supply the readers, says the they will be of real benefit to mobile services such as Green Acres lawn mowing contractors and businesses that attend farmers markets and industry shows.
The readers can also allow business owners to take payment anywhere, not just at the till queue.
Instead of buying or hiring and expensive EFTPOS machines, says Kumar, merchants will be able to get their first Swipe HQ reader for free. Subsequent machines will cost $39.95 plus postage. Payments on the reader go over the Swipe HQ Checkout, which costs 2.75% per transaction. An email or text receipt is sent to customers who want them.
Kumar says the Swipe HQ Storefront software that manages the payments can be used by merchants to run loyalty or other programmes and linked into facebook and other social media. A merchant could, for example, set up a loyalty system that doesn't only reward customers for buying widgets or services. It could also reward them for providing Likes on facebook or checking in on foursquare.
Kumar says that he is working with Xero and others to integrate Swipe HQ with accounting, inventory and other software.
The other big change looming in the world of payments says Philip Deason, head of products & partners at Paymark relates to NFC technology, which will allow contactless payment.
Instead of carrying credit EFTPOS, loyalty, or pre-paid transport cards, customers will have the functionality loaded virtually into NFC-enabled phones. They will then wave their phone at a terminal. It is even possible that car key fobs could be fitted with chips that hold people's payment methods and work as a means of identification. Drivers carry their car keys with them most of the time.
A NFC enabled EFTPOS terminal is needed to take contactless payments direct from people's phones. That requires both customers to upgrade old phones and merchants to get flash new EFTPOS machines.
Merchants who do go down this route, however, will find that they can process customers faster and reduce the frustration levels that come with the slowness of chip card payments, says Roxanne Salton. Telecom's senior product manager mCommerce.
Whether we'll reach that tipping point of ubiquity, scale and trust, is yet to be seen. Our EFTPOS market is already very developed and some of the overseas initiatives such as mobile payments in Africa aren't as necessary here.
In the meantime, some business owners are finding innovative ways to avoid buying or leasing an EFTPOS machine. One such method is asking customers to pay by text, or facebook. Banks such as the ASB allow customers to pay to a mobile phone number or facebook ID. The recipient collects the money by visiting the ASB's website.
Meanwhile Deason believes that merchants using tablets to take ecommerce payments will become increasingly common. Currently it's more expensive to take payments this way. He expects however, that as tablets and phones become more secure and less of a risk for the banks, the cost of taking payments this way will drop.

Links
Why you might need a tablet as well as a smartphone