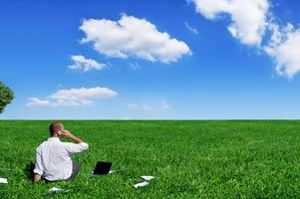 Once upon a time mobile phones were a way of making phone calls. These days smartphones are a vital business tool boosting business productivity if used well.
The first hurdle in making the best purchasing decision is choosing the operating system: Apple's iOS, Android, Windows Phone 7 or BlackBerry.
Greg Angell, Telecom Business Hub owner in Dunedin is wedded to his iPhone. None-the-less he can see many reasons for small businesses to choose other operating systems.
One of them is cost. "Android phones are much cheaper to buy and have lower cost plans," says Angell. "Free" iPhone and other handsets are tempting, but mean a higher monthly plan charge.
Another issue is the robustness of the phone. The iPhone is a little on the delicate side for tradespeople and others who may be hard on their phones. A plumber, for example, might be better off with a water resistant phone such as the Motorola Defy, says Angell.
There is no reason that all employees need to be using the same operating system. It's not unusual for the boss to have the latest iPhone and staff to have a more inexpensive handset on Android. "There is a little bit of status in there," says Angell.
Justin MacKay store manager at the Telecom Business Hub South Canterbury advises small businesses on the pros and cons of the different operating systems. They are, he says:
• iOS: The best feature of Apple's operating system is its ease of use. Each new handset has continuity from previous versions, which makes it easy to get used to the new one after upgrading. What's more, new users are bound to know someone with an iPhone who can show them how to use it. Android, on the other hand, has many more versions of operating system. Apple has the best range of business applications, and they're easy to download through iTunes.
• Android: Unsurprisingly Android has the best integration with other Google applications (apps), such as Docs, Calendar, Email, Talk and the search. It's also an Open Source platform, which means that businesses can develop their own apps more easily than the other operating systems. Another advantage, says MacKay is that there is a huge variety of phones at various price points, which can be appealing to businesses that don't want to buy top priced phones for every employee.
• Windows Phone 7: Small businesses that rely heavily on Microsoft Office applications are starting to look at the new WP7 operating platform. It's difficult for new users to get used to, but once they are, employees are often sold on the integration with Outlook, Word, PowerPoint, Excel and the other Office applications.
• Blackberry: This operating system used to be hugely popular before the iPhone was invented. Now that all four operating systems offer similar features and apps, Blackberry has retreated into the world of medium and large sized organisations. Its push email that is always on can be very beneficial in fast paced industries. What's more, its password protection and security is better than the other operating systems, says McKay. Employees can't remove the password protection on the phone and removable storage cards are encrypted, so that they data can't be read on another phone.
Small business users need to think long and hard about what they want to use their smart phones for. It's also worth checking what apps are available on each platform before making a final decision.
What's all this mobile app fuss about?