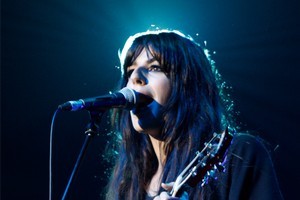 Even with hit tracks that have made her a favourite at home and overseas, award-winning singer-songwriter Brooke Fraser still finds her success hard to believe.
The girl from Lower Hutt is one of this year's finalists for the Herald's New Zealander of the Year title.
There is no doubt she has had a stellar year, picking up five gongs at the Vodafone Music Awards for Best Pop Album, Highest Selling Album, the International Achievement award, People's Choice and the Highest Selling Single, for her hit Something In The Water.
That same breezy tune - which has made charts in various countries - brought her honours at the annual APRA Silver Scroll awards in September, when she won the award for the Most Performed Work in New Zealand.
She has toured in the United States, Hong Kong and in Europe, where she is wrapping up her last big tour for the year.
"It has been a busy, fruitful and somewhat magical year," she said.
"There have certainly been 'pinch yourself now' moments, one of them happening when one of my favourite authors mentioned my music on his Twitter feed as he'd discovered one of his books had partly inspired Something In the Water.
"Obviously you never dream the people whose work inspires you will ever be aware of your existence or of their impact on your work, so this was crazy for me.
"In those moments I think to myself, 'how does this happen to a girl from Lower Hutt'?"
Fraser said knowing that her songs had touched not only those people in her homeland, but overseas was a thrill and a privilege.
As well as the music though, she is also known for her work with charities, particularly the international child-aid organisation World Vision, which she fronted for in television advertisements and various campaigns.
World Vision also took her to Africa - Tanzania, Rwanda - and Cambodia a trip which inevitably inspired her hit song Albertine, based on a girl she met during her travels.
"I feel like I've banged on and on about it over the years, but there remains something about the African continent that affects me pretty deeply.
"I was there in October and discovered that it hasn't worn off," she said.
"I am very, very happy there."
So where to now, for Brooke Fraser?
Her next tour is coming up in April, after which her many fans will be happy to know that she will be getting set to write her next record.
In the meantime though, it's the simple things that Fraser's wanting these holidays.
"Immediate future [involves] my own bed, cooking, Christmas and holidays.
"Then 2012 is one last touring burst and then writing and being creative - my favourite type of year," she said.
REMARKABLE ACHIEVERS
Tomorrow we announce the winner of the Herald's New Zealander of the Year series, from a shortlist of 10 people who have made our country a better place in 2011.
The finalists are: the Rena salvors; Sam Johnson, leader of the Christchurch earthquake student volunteer army leader Sam Johnson; World Cup boss Martin Snedden; Kimberley White, who stood up to her mother's killer; All Blacks captain Richie McCaw; road policing manager Paula Rose; UN Development Programme head Helen Clark; Neal and Annette Plowman, who gave Rotorua Island to the public. Brooke Fraser, the singer, and Bernie Monk, the voice of the families of the Pike River mine disaster, complete the list.