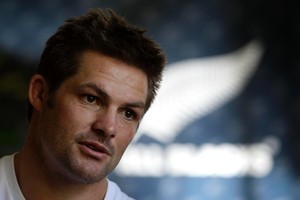 The nation held its breath when there was a suggestion the All Black captain was injured in World Cup year. But cometh the hour, cometh the man - not only did Richie McCaw play, but he produced an inspirational masterclass in leadership.
McCaw is one of 10 finalists in the New Zealand Herald New Zealander of the Year awards and the reasons go beyond sport and captaincy to valour, grit and determination. His compassion for his earthquake-ravaged base of Christchurch also makes him a deserving finalist.
But it was a different story at the season's start. As far as portents go, it was ominous.
In this year of years for rugby, there was Richie McCaw, at the launch of the Super 15 in February, announcing he would be missing the first six weeks of the season with a foot injury.
Knowing what we do now and how much grief the fifth metatarsal of the right foot was to give him over the course of the year (he's still wearing a cast), his quotes at the time seem remarkably understated.
Asked whether it was better to have an injury occur now rather than later in the year, McCaw deadpanned: "You could look at it like that.
"Being a big year, we'll deal with it now and hopefully that will be all we have to deal with... It's not a major really, just one of those things you have to deal with and get ready to play again."
McCaw's injury-plagued Super 15 never really got rolling, even if the Crusaders' outstanding efforts provided a touchstone for the quake-stricken people of Canterbury.
The Bledisloe Cup was retained, but back-to-back defeats to South Africa and Australia resulted in them losing their Tri-Nations crown to their transtasman foes.
As the World Cup loomed, the nation's anxiety levels started rising to unhealthy levels. And this was where the greatness of McCaw asserted itself.
He missed two Pool A matches and was never at his physical peak during the tournament, but in the knockout rounds he was a reassuring, often brilliant, presence.
In the final, where a flat All Blacks team met the fired-up French on one of their quadrennial seek-and-destroy missions, the 31-year-old captain with 103 test caps to his name demonstrated he had learned the painful lessons of past World Cup defeats.
This time he was clearly targeted; video replays of the game indicate he was eye-gouged by Frenchman Aurelien Rougerie. At a Christchurch breakfast fundraiser this week, McCaw told the audience the French "got filthy".
"The French are worse when they're scared. They were as bad as they've been and were going for the eyes," he said.
"My eye was a bit sore for a while and I was struggling to see for a bit. I was surprised they didn't cite him."
With all this pressure, McCaw bravely led from the front and for the last 20 minutes, the All Blacks defended grimly as they clung to the most tenuous of one-point leads. When they finally got the ball, with four minutes left, they refused to let it go.
"That last 20 minutes wasn't enjoyable to be fair, but afterwards, when you've been through those tough times, you see what you're all about and there was a fair bit of character shown there. The boys had dug pretty deep."
The All Blacks, when they needed to most, had cast themselves in their captain's image - utterly unyielding.
----
A nagging pain in Richie McCaw's right foot became a national headache. With the Rugby World Cup looming, McCaw had surgery to insert a screw in a bone and missed the first six weeks of the Super 15 rugby competition.
He was short on match fitness and struggled to reach his best for the All Blacks. His foot never healed properly - the screw caused more harm than good - though the injury was downplayed to reassure nervous fans.
Still, the skipper got on the paddock, and became the first All Black test centurion.
In a year when New Zealand needed cheering up, the 30-year-old embraced the weight of expectation and inspired his team to victory in sudden-death matches against Argentina, Australia and France.
"Everyone dug as deep as they can," McCaw said after lifting the Webb Ellis Cup in front of 61,000 fans at Eden Park and a "stadium of four million" outside the ground.
"It's hard to describe. The courage, what the guys put in out there. We dug deeper than we ever have before ...
You've got to be warriors to win this."
Above all, the teak-tough All Black captain is a great warrior and, despite the accolades that have come his way, remains a down-to-earth bloke.
For that, and for helping to bury 24 long years between World Cup victories, Richie McCaw is our New Zealander of the Year.