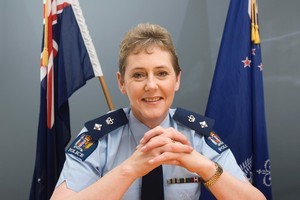 Superintendent Paula Rose keeps a self-portrait of the sole victim of a holiday weekend road death in her office as a reminder the road toll is about people, not numbers.
Initially it was believed the country got through Queen's Birthday weekend without any death on the roads for the first time since records began.
That was until Geoffrey Peren, 20, died in hospital of his injuries and the road toll went from zero to one.
"His mother sent it to me. She made it into a card after his funeral and that sits in my office where I see it because it's a reminder that Geoffrey was a person, not just a number. And all of us need to be reminded of that."
Ms Rose, the national road policing manager, has been the public face of the police's road safety campaign that is not always welcomed by motorists. Under her watch there has been a permanent lower speed tolerance during holiday weekends, a ban on cellphone use while driving and the introduction of zero alcohol allowance for teenage drivers.
But there has been a dramatic fall in the number of people dying on the roads.
As of last week there were about 96 fewer deaths than the same time last year. "This year, all things going well, our death toll will be the lowest since 1952 ... But next year we'll be aiming for lower again."
She believed various factors were responsible.
"I think it's people. Yes, we are improving our roads, our vehicles are getting better, but there's a big time lag in those."
Instead, there was a "huge road safety conversation going".
"With parents and kids, with workmates and, of course, I think we have a wonderful police response to road safety, thanks to our frontline staff."
She said emphasis on things such as youth alcohol and driving, cellphone use and restraints had gained more publicity than in the past.
"But I think as a society we stopped saying [it's] bad people doing bad things.
"Yes, there are recidivist offenders, but the bulk of the carnage is happening to normal New Zealanders who are probably great people but occasionally they might make a mistake.
"Everything we try to do is around emphasising if you make a mistake, it shouldn't have to kill you."
After 27 years in road policing the same thing that motivated her then was still relevant. "What greater job can you have than helping people live to see tomorrow."