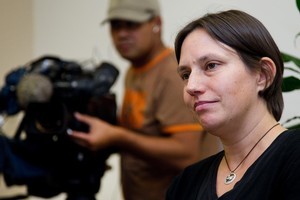 Every day of every year somebody somewhere performs an act of kindness, courage, leadership or devotion that deserves an accolade of the sort we offer today. Not many attract much attention.
In selecting someone whose achievement or service to the community reached inspirational levels this year, we honour also those whose contribution went unnoticed.
The year will be remembered for calamities. Canterbury was hit by a magnitude-7 earthquake, the West Coast lost 29 men in a mine explosion. Trauma and tragedy highlighted real human goodness.
The citizens of Christchurch helped one another in darkness without telephones and reliable water supplies. The dawn revealed the damage to the city centre and to homes where land had slumped or slipped.
Mercifully, no lives were lost but the city's spirit was to be tested by aftershocks, some nearly as strong, that still recur.
Nobody exemplified the city's spirit better than one contender for our New Zealander of the Year, dairy owner Suresh Patel. He and his family rushed to the shop after the quake and found shaken people looking for drinking water and torch batteries. Power was out, eftpos down, nobody had cash. Mr Patel told them, "Take whatever you need, milk, batteries, water, spaghetti, take it."
The West Coast suffered a different sort of emergency - man made. Two miners emerged from the Pike River explosion, no more. Families of the remaining 29 waited five days before hope died in a second blast.
The company's chief executive, Peter Whittall, was with them throughout, as was Greymouth Mayor Tony Kokshoorn. The founding manager of the mine has more questions to answer but the mayor's contribution deserves unequivocal recognition.
Many other names have come into consideration, such as Ryan Nelsen, who led the All Whites in the year's most unexpected sporting performance; actress Robyn Malcolm, who had the courage to take an unpopular stand; Ingrid Visser, a marine scientist who connects us to the marvellous mammals that visit our coast and occasionally get stranded.
Political figures are not considered for our annual accolade since they receive recognition enough. But this year the Governor-General, Sir Anand Satyanand, ought to be acknowledged for dignity and grace when his very New Zealandness was questioned by a broadcaster not worth a mention.
There were too many to mention but one stood out, both in the minds of our selection panel and the feedback from hundreds of readers. Emma Woods was walking with her two boys, Jacob, 6, and Nayan, 4, on a Friday evening in May when a teenager's car came from a side street, mounted the footpath, spun off a fence and killed Nayan. The distraught driver came to their aid and Mrs Woods forgave.
When the 17-year-old pleaded guilty to dangerous driving charges, Mrs Woods asked the court that he not be sent to jail. She said to him she did not want the tragedy to be the defining moment of his life. She and he have since worked together on a shrine to her lost son.
Her goodness speaks for itself. The rarity of her example of true forgiveness - in a society shaped too often by conflict, accentuated victimhood, revenge and forced apologies - makes Emma Woods our New Zealander of the Year.