Every day this week in news, business and sport we feature the finalists for the Herald New Zealander of the Year. Top honours will appear in the Weekend Herald on Saturday.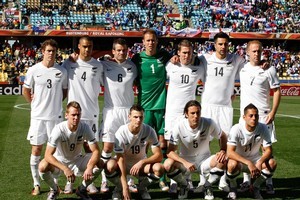 When is a victory not a win, but still well worthy of significant celebration? Most notably this year, in the form of the All Whites.
When they qualified for the World Cup finals in South Africa, and were grouped with Slovakia, Italy and Paraguay, no one gave them much chance of proving to be more than a speed bump for their opponents, particularly the defending world champions, the Azzurri, and the tidy and impressive South Americans.
But they did more than their only predecessors of 1982 in collecting New Zealand's first cup finals points.
The '82 side lost 5-2 to Scotland, 3-0 to the USSR and 4-0 to mighty Brazil.
This squad, captained from central defence by Ryan Nelsen and coached by Ricki Herbert, shocked the Slovaks with a late but deserved equaliser in a 1-1 draw; shattered Italy's ambitions with the same scoreline; and gave Paraguay a decent run for their money in a scoreless draw.
So three draws, three points, and ultimately the only team in the 32-nation finals to remain unbeaten.
Winston Reid's late header against Slovakia changed his life. The young defender, then playing in Denmark, secured a contract at English premier league club West Ham.
Shane Smeltz shook the Italians with his early goal and mounted a remarkably effective defensive operation, inspired by Nelsen's heroics and 'keeper Mark Paston's brilliance.
They had to work overtime to finish level with the slick Paraguayans.
Assessing the merits of their campaign requires a degree of realism and scale. To knock their effort because they didn't win is a failure to understand the size of their task.
Respect has been won; the task now is to build on it.
We would like to hear from you. Who do you think is a worthy New Zealander of the Year for 2010? Email us at newsdesk@nzherald.co.nz