Every day this week in news, business and sport we feature the finalists for the Herald New Zealander of the Year. Top honours will appear in the Weekend Herald on Saturday.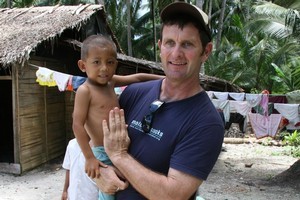 Is SurfAid a bunch of surfing doctors?, asks a reader in the frequently asked questions section of SurfAid International's website.
The official answer is that SurfAid is a community development organisation, not a medical agency.
But the non-governmental agency did indeed begin with surfing doctors and one in particular - Dave Jenkins from New Zealand.
Dr Dave, as he is now known, went on a surf charter to the Mentawai Islands off the coast of Sumatra in 1999 in search of the perfect wave.
The former Wellington man found the waves he craved but he also found a level of poverty and ill-health which shocked him and he vowed not to walk away.
According to SurfAid, one in 10 Mentawai children do not live to the age of 5.
Earlier this year, Dr Dave told how he was profoundly moved when saw the tiny graves of children in the village of Katiet on that 1999 trip.
"We were anchored off a village and I went in to have a look around. When the chief found out I was a doctor he asked me to come back and see some people.
"I returned with a small medical kit and 200 people were waiting. We had quite an emotional afternoon coming to terms with the state of health there, seeing desperate children who were sick.
"They had worms, were anaemic and had pot bellies from malnutrition. One woman with pneumonia was brought to me in a wheelbarrow. She died later that night.
"Whole families were wasting away with pneumonia."
So Jenkins set up SurfAid with a long-time friend, epidemiologist Dr Steve Hathaway, and more than a decade on the organisation has branches in this country, Indonesia, Australia and America.
It has helped thousands of people over the years and has been on the ground to provide vital help during several disasters - including the Boxing Day tsunami of 2004 and yet another tsunami in October this year in which SurfAid was appointed by the Indonesian government to lead the emergency response.
That recent tsunami killed more than 500 people and devastated villages, yet SurfAid did not set out to handle disaster-relief.
It began with a small malaria programme in one village in the Mentawai Islands in 2000.
Within nine months Dr Dave had more than 90 per cent of the village going to bed under sleeping nets. The work has expanded to include water and sanitation, disaster preparedness and community health programmes.
SurfAid has worked in more than 300 villages in the Mentawai and Nias island chain and also more recently in Padang, the regional capital of West Sumatra after a 7.0 magnitude earthquake struck the city last September.
We would like to hear from you. Who do you think is a worthy New Zealander of the Year for 2010? Email us at newsdesk@nzherald.co.nz