2009 New Zealander of the Year:

Lenny Holmwood

A modest hero who saved two policemen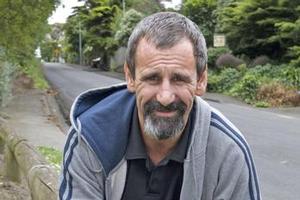 Lenny Holmwood knew he should just run.
He had seen the murderous rage in Jan Molenaar's eyes. He had watched Molenaar shoot the policemen. He saw the gun was still in Molenaar's hands, and realised the bodybuilder was far stronger than him. He sensed he could be next.
But Holmwood also knew the two wounded policemen on the street had no chance without him.
Molenaar was intent on finishing them off. Blood streaming from their wounds, the unarmed officers were completely out in the open as they tried to stagger up the steep road. Molenaar was just metres away as he turned the gun on them.
So, on May 7, Holmwood stepped up.
He grabbed the barrel of the gun, telling Molenaar "don't do that, mate - there's no need for this".
He pointed it away and towards the ground, and tried to wrestle it off him.
As they grappled, Molenaar didn't utter a single word, but Holmwood saw his eyes getting even wilder. Then Molenaar unleashed, shunting Holmwood off the gun and flinging him through the air.
The first bullet hit the ashphalt beneath him. The second struck him. Molenaar turned again for the policemen, but the 20 seconds Holmwood had provided were just enough: Senior Constables Grant Diver and Bruce Miller were in cover on a neighbouring section.
Holmwood says he just had to do something.
"If I didn't try, I would have been just as guilty as him."
As Holmwood lay on the street, he noticed Senior Constable Len Snee for the first time, slumped on the ground, bleeding from a massive chest wound.
Molenaar was back at his house, and soon began shooting from the decking overlooking the street.
Holmwood crawled towards Snee and saw he was alive. His eyes flickered, as Holmwood said, "Hang in there, mate".
He wanted to do more, but couldn't as Molenaar's volleys of shots forced him to take cover again.
Snee died, the chest and two other wounds deemed unsurvivable by doctors. Miller and Diver were rescued and survived after life-saving surgery, surely owing their lives to Holmwood, who was pulled out too.
Molenaar fought on for 28 more hours before turning one of his guns on himself.
The day became known as the Napier siege. Holmwood was its hero.
* * *
Holmwood's actions are encapsulated in a particularly Kiwi phrase: it took guts, and heaps of them.
If there was an award for a have-a-go hero, he would win it easy.
He had the chance to flee, but instead put his life on the line to save the two constables. Even though wounded, he crawled back under gunfire to try and help Snee. He acted knowing Molenaar was armed, and would kill.
The sheer courage involved makes Lenny Holmwood the Herald's New Zealander of the year.
Holmwood says his actions that day were "off the Richter scale", compared to the rest of his 45 years.
He says he'd be known as "just a worker, a hard worker" otherwise.
He's dressed today as he always does, wearing a beanie and shorts, with trimmed goatee beard and missing teeth.
His life hasn't been easy, not that he'd put it that way. He was adopted out at birth. His adopted father died young, and he was raised by his mother in a Pt Chevalier state house. He left school early, working on the railways, in the bush, as a minder for musicians' gear at bars. He played league for the Pt Chevalier Pirates. He got into a bit of trouble here and there, nothing major. He fell out with his family, and left for Hawkes Bay.
He got some work: holding the stop/go sign at road works; a labourer on demolition jobs; a hammer-hand on building sites. He went hard at hard jobs, and built a reputation for his work ethic. He lived alone and kept himself to himself. He was happy.
It does not read like the CV of a New Zealander of the Year, rather the classic school of hard knocks.
But there's a determination there. Hanging on to a job. Putting his hand up for the health and safety representative jobs and first aid courses. And getting caught up in a few fights.
"I'd always be the one to get in the middle," he says. "I'd get in there between the guys, and try and quell it."
The winter Thursday that turned into the siege had been as ordinary as ever for Holmwood.
He'd been laid off his labouring job as the recession hit the building industry.
He also lived from pay-day to pay-day, and had just $80 to his name. He was starting a new job as a swimming pool lifeguard on Monday, but his cat Scrappy was sick and he was worried how he could pay a vet.
To kill time, Holmwood decided to see his mate Molenaar on Chaucer Rd hill. He'd met Molenaar when he rented a property off him. They became friends.
Holmwood, who openly admits to smoking marijuana, had bought dope from Molenaar - although he says he was there purely for a visit that day.
Molenaar had just arrived home from walking his dog Luger and found the three officers with a search warrant and chatting with his partner Delwyn Keefe.
Molenaar got his gun and ordered them out. Holmwood arrived, with Molenaar telling him "you can go too".
Holmwood remembers the officers backing out, saying "okay, we're going".
Holmwood says he had no idea Molenaar had an arsenal of 18 guns including military-style semi-automatics.
He'd only seen Molenaar upset once or twice, but not angry and is still at a loss to explain why he flipped out.
His only explanation is Molenaar's paranoia: you could never turn up at the house unannounced, no matter how well you knew him.
Holmwood says it was still no way to react to the routine bust, which was based on information from an off-duty officer who had smelled marijuana as he walked past.
His actions that day were driven in part by his mateship for Molenaar. He says he wanted to stop him "from making an even bigger egg of himself".
* * *
Holmwood was taking cover against a wall when he made two calls from his cellphone - the first to 111, the other to a friend: "Jan busted. 3 cops shot. Me leg. Can you feed Scrappy."
Holmwood says this was when the two men he calls "my heroes" arrived - the police Armed Offenders Squad officers who came in to get him out while under fire.
They helped him down the hill, unaware the .223 bullet had shattered his hip.
Holmwood says they encouraged him, even to the point of swearing, as bullets hit the road around them.
"They were saying over and over: 'Don't give up on us. Don't you give up on us," he says.
"They apologised for the swearing later. I said: 'no worries - you got me up. You got me out'."
Holmwood passed out and went into a coma for three days. The almost 6cm-long bullet had come in through his left leg, and deflected "like a pool ball" off his pelvis and exited out his left backside.
It knocked out his sciatic nerve and when that recovered, pain began in his foot. It felt, says Holmwood "like someone had my foot in a vice and was banging it hard with about six hammers".
Recovery has been hard. On release from hospital he became depressed to the point of suicide. He'd always thought it was the coward's way out, but has a better understanding now.
He was reunited with Scrappy, but the cat died of kidney problems.
Delwyn Keefe has publicly called him a "nark" which Lenny forcefully denies. He is walking but has a "floppy" foot and will never again run. But he's working out at Napier's Ocean Spa pool gym where his lifesaver job remains open once he recovers fully.
His goal is to pass the lifeguard test.
He finds praise for his deeds hard to take. Being applauded at a memorial rugby match for Snee left him wanting to "curl up into a ball". He enjoys catching up with Senior Constables Diver and Miller, and the Armed Offenders squad officer who got him.
With funds raised for him, he's been able to buy a flat-screen TV and gas barbecue. He has a new flat, with a tidy vegetable garden: radishes, lettuces, tomatoes and silverbeet. He has his budgie and two finches for company. A laminated note from Prime Minister John Key is proudly pinned to the wall.
He's also reconciled with his mum, Kath, after their falling out. And found an aim in life: to become a counsellor. He'd like to do the training in tandem with his lifeguard job when he's well enough.
But whatever happens, Holmwood doesn't think his heroic deeds will ever change how he wants to be remembered. "A worker. A decent person who just worked and helped a few mates. That's all."
HOW WE MADE OUR CHOICE
Throughout today's Weekend Herald we pay tribute to our New Zealanders of the Year - in business, sport and in the community. From a lengthy list of nominations submitted by Herald staff, a panel of senior journalists whittled down the numbers. These are our final selections.
WINNERS THIS DECADE
2008: Austin Hemmings, slain as he helped a woman being attacked
Tony McClean, drowned trying to save students trapped by floodwaters
2007: Louise Nicholas, campaigner
2006: Kevin Brady, Auditor-General, Paula Rebstock, chairwoman of the Commerce Commission
2005: Jock Hobbs, key Rugby World Cup figure
2004: Dr Peter Gluckman, scientist
2003: Michael King, author
2002: Cliff Jones, police officer
2001: Peter Jackson, film-maker
2000: Rob Waddell, Olympic gold medallist, Lucy Lawless, actor