2009 New Zealander of the Year: Sport

Valerie Vili

World champion shot-putter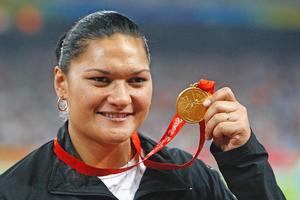 For a woman who once protected her goals as jealously as MPs protect their perks, Valerie Vili is in forthcomingly good form.
The 2009 checklist reads:
* Stay unbeaten for as long as possible (all year in fact) - check;
* Win world champs in Berlin - check;
* Throw 21 metres - check.
It's the last one that has given her the greatest cause for optimism as she contemplates 2010. Even the Berlin victory, achieved in front of the most knowledgeable field events crowd in the world, was a case of defending what she already had. Going beyond 21m took her, quite literally, to pastures new.
That she did so with one of her last throws of the season demonstrated what a relentless competitor she has become. At Thessaloniki, Greece, at the fag end of the European summer, she threw 21.07m, smashing her New Zealand and Oceania records by 38cm.
"It was my last competition of the year, which made it even more special," Vili says. "You go into that competition and you're tired and, although you do give a damn, it's the end of the year, you want to get it over and done with, get on the plane and take a break."
Using a modified technique, Vili ensured she would be flying home with a smile on her face.
"After the world champs Kirsten [Hellier, her coach] and I made a few changes, technically, to the throw and we tried it out in a couple of competitions in Germany, then took it to Greece for the last competition and it obviously worked. The changes we made were crucial."
The changes were also "subtle" and they were, most definitely, secret.
"Don't ask me what they were because I'm not telling you, I'd have to kill you," she jokes ... possibly.
* * *
With apologies to IAAF athlete of the year Sanya Richards, the world's most dominant female athlete can usually be found in a 20m sq garage at the back of the utilitarian Mt Smart Stadium in the heart of Auckland's industrial zone.
It is here that Vili lifts weights every day, works on her flexibility and then ducks out the back to a scrap of grass where she hurls 4kg balls of steel into a narrow sand trap that speaks volumes for her accuracy - hour after hour after hour.
Ask Vili what her plans for the summer holidays are and she looks around the garage, at the rows of free weights, at the Swiss balls, smiles and says: "Training. All summer, I'll be here training.
"If you want to be the best you have to train through the holidays."
And she still wants to be the best, desperately wants it, even though she so clearly is. The 25-year-old remembers how hard she worked getting to No 1 and does not want to take her eye off the shot now.
She loves the fact that when she turns up to a competition she is immediately "the one to beat" and takes pride in the fact that most of the field have no idea how they are going to manage that.
"Definitely," she says. "I'm the hunted. People out there are trying to hunt me down. That used to be me once upon a time. It was my job to hunt down the girl who was No 1. I did that successfully. Now they've got to get me, they've got to hunt me down.
"It keeps me on my toes. I've got to train harder, I've got to train more intelligently. I have to think about everything I do and make sure I do everything possible to stay on top."
This is not only the essence of sport for Vili, but the meaning of life.
"It's why I train so hard every day. It's why I do what I do. I love the challenges. It's what motivates me to keep going. Every single competition I go to I know there are girls there who are looking at me and want to be the one who can say they beat me. Half of them are younger than me now. I'm getting on a bit."
* * *
Older, in Vili's case, truly means wiser.
She lost both parents, Lilika and Sidney, before her 23rd birthday, before she could call herself Olympic champion.
She maintained an anger about her situation - she once said "I didn't want to get over it, I found it hard to accept" - that she and Hellier funnelled into her sport. She was angry and, in the absence of her parents, constantly proving herself to the world.
Now, if she retired tomorrow, she would go down as one of this country's greatest athletes. She has nothing left to prove to anyone ... well, almost anyone.
"I have a lot to prove to myself. My coach and I think we have a lot to prove out in the throwing arena; so much to gain, so much more to learn.
"There are things you live for as an athlete. There's titles to win, there's the Commonwealth Games, the Olympic Games.
"You want to throw further, to set records that will stand for a very long time in this country. There's so much more I want to achieve. The fire is still burning as strong as it was two years ago."
It will continue to burn for a while longer yet. With the world indoor championships in Doha set for March and the Delhi Commonwealth Games in October, the 2010 season will be very long.
The 2011 season will hinge around the world champs in South Korea and the following year is the ultimate goal, a rather large sporting jamboree to be held in London.
Vili still fully intends to be competing in the above mentioned.
"The day I wake up and I'm not enjoying it any more is the day I hang up my boots.
"I will know that within but at the moment I love it dearly. It's my life, it's my sport, it's my career. It's what I do.
"I love competing for my country. I'm only 25 so I will try to go for as long as I can. Yeah, I love it, I love throwing a steel ball around. It's great."
* * *
It is a tribute as much to Hellier as it is to Vili that the South Aucklander still loves throwing steel balls around. After more than a decade, most people begin to tire of the same voice. Not Vili.
"No, no, no. We're a team. We've been together for 11 years now ... God, it sounds like a marriage. It works. She knows what makes me tick. She knows how to get the best out of me as an athlete."
Vili has learned fast and is still learning. Although genes and hard work have delivered her a body that is close to the ultimate shot-putting machine, Vili is tapping into the possibilities offered to her by her mind.
It's not just athleticism that can give an athlete an edge.
One of the great John Walker stories was him stripping off his tracksuit in the call room at Montreal'76 and walking from athlete to athlete, so they could see him in his black singlet with the silver fern, as powerful a symbol as any in the world of middle-distance running back then.
Vili does not engage in anything quite so obvious but uses the call room to her advantage, too.
"I like to have a little chit chat in the call room. A lot of the other athletes don't like it but it's my way of doing things ... but it all ends on the first throw."
Is it trash talk?
"I don't do any of that [rubbish]. I never talk about distances I will throw, I don't talk loudly and I don't do anything to upset other people deliberately. I'm not one to come up to someone and tell them I'm going to kick their arse. It's very subtle, it's just doing these that are in keeping with your nature."
It is, she says, a way of demonstrating how calm and relaxed you are, even if you're not feeling it inside.
"Before you get into the call room you are intense.
"You're warming up and everyone is doing their stuff. When you enter the call room you've still got 30 minutes before you go out. Instead of staying intense there, I try to conserve my energy by bringing myself down and relaxing and then 'boom', when it's time to go out I'm refocused."
* * *
As 2009 rolls into 2010, Vili has sharpened her focus. There are some fairly lofty goals to aim for. One of them, however, is not the world record.
"At this moment, no. Kirsten and I have other challenges we want to achieve. The world record is 22.63 and that was set in 1987; I think that speaks for itself.
"My goal is to throw in the late-20s consistently, 21m consistently, then make my way up from there."
If the other ones are achieved, there is every chance she could be occupying a similar piece of newspaper real estate about this time next year.
Don't be surprised to a see a list like this:
* World indoor champion - check;
* World cup winner - check;
* Commonwealth Games crown defended - check.
VILI WINS BY DECISIVE MARGIN
The Herald jury has spoken and the top 10 sports achievers of the year have been found.
It was a close call in some of the decisions, but world champion shot putter Valerie Vili came out on top by a decisive margin.
The All Whites were surprise runners up, having captured the imagination of the nation by qualifying for next year's World Cup finals. They narrowly edged out two world champions, single sculler Mahe Drysdale and track cyclist Alison Shanks.
The Herald sports staff chose their 10 top performances of the year. Ten points were allocated to each No 1 choice, down to one for the 10th. Points were then collated to find the top 10.
Several other worthy athletes won votes and were close - the 11th best performance was that of All Black captain Richie McCaw, who came up two points short of 10th-placed rowing world champions Hamish Bond and Eric Murray.
The closest of those who didn't make the 10, but warrant a mention, include last year's winner, Scott Dixon, winner of more races in the Indy Racing League than any other driver; double world BMX champion Sarah Walker; Silver Ferns netball captain and defensive powerhouse Casey Williams.