A shelter of the steppes finds a place under the nikau, writes Monique Balvert-O'Connor.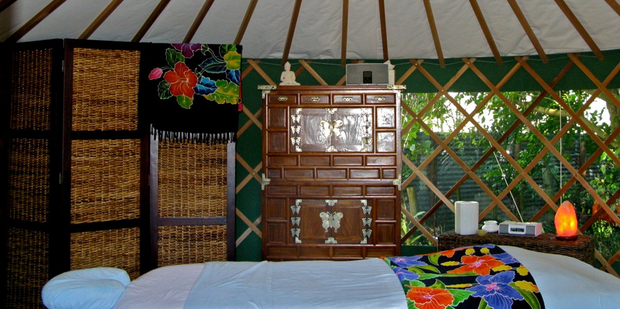 Boring just doesn't get to rest its head in Raglan. The west coast town may be most famous for its left-hand surf break - reputed to be the longest in the world - but it's also making a name for itself when it comes to alternative accommodation options. And so it is that our destination for the night is a Mongolian yurt.
The last time we stayed in Raglan we brought our brood of boys and slept in tepees in the bush. There, at Solscape, railway carriages and cabooses are also accommodation options.
We have promised that our next visit to Raglan will include a night in another getaway spot with a difference - a silo on the wharf that has been converted into three apartments.
But first Peter and Robbyn Story's yurt, which rests in a grove of nikau palms high up on the outskirts of Raglan.
Robbyn hit on the idea of a yurt when looking for a venue with a point of difference from which to run her massage business. She and Peter visited Takaka-based Jaia Tipis and Yurts, and bought two kitset yurts, one for Robbyn's business and the other, 7m in diameter, to set up as accommodation.
The word "yurt" tends to conjure up an image of a circular wooden frame covered in felt or animal hide used in Central Asia for at least 3000 years. We didn't expect opulence.
First to stun the eye is the lounge suit of plush, maroon velvet and a comfortable queen-sized bed draped in the same hues. In this yurt there is insulation, underfloor heating and Sky TV.
There's a bathroom and kitchenette so there's really no need to go out at all. Unless, of course, the temptation of an outdoor spa bath - complete with candle lanterns, perfumed bubbles and view of the up-lit grove of trees - is irresistible.
Also enticing is the journey to the massage yurt where Robbyn offers Hawaiian massage learned over the past few years on the isle of Maui.
Peter and Robbyn place high value on their landscape. They opted to place their accommodation yurt on a suspended concrete floor so as not to upset the tree roots. The deck leading to the yurt's front door and outdoor bath beyond has been built around nikau palm trunks.
Peter tells how he and Robbyn configured the interior and added a skylight at the top of the conical roof. Positioned above the bed, it's a magical window through which to view the canopy of trees and star-studded sky. Peter has added to the ambience by attaching dozens of little LED lights up the wooden slats leading to the skylight.
The comments in the visitors' book confirm that we're not the first to find yurt life appealing.
Robbyn and Peter have achieved exactly what they set out to do.
"We wanted to remind people of the simple side of life, offering them the opportunity of getting back to nature without roughing it too much," Robbyn says.
There are plans to add to the experience, perhaps by planting more native trees at their sanctuary and maybe adding a meditation area.
They've already succeeded in adding glamping to this seaside town's accommodation options.
THE BEST OF RAGLAN
• Surf/learn to surf - Raglan has various learning-to-surf options, or watch the surfers.
• Visit one of the many galleries or see an artist at work. I visited one of my favourite potters, Tony Sly, at the wharf.
• Kayaks or paddleboards are available for hire opposite the wharf.
• Tramp or walk: Bridal Veil and Bryant Memorial walks are short, Mt Karioi is more serious.
• Gallop across the beach. Magic Mountain Horse Treks and WildCoast Ruapuke offer a variety of horse treks.
CHECKLIST
Getting there: Raglan is a three-hour drive southwest of Auckland.
Accommodation: Rates for two at Nikau Sanctuary, including breakfast, start at $180 a night (minimum two nights). A one-hour massage can be booked for $50 with accommodation. Email: raglanyurt@gmail.com
The writer stayed as a guest of Nikau Sanctuary.