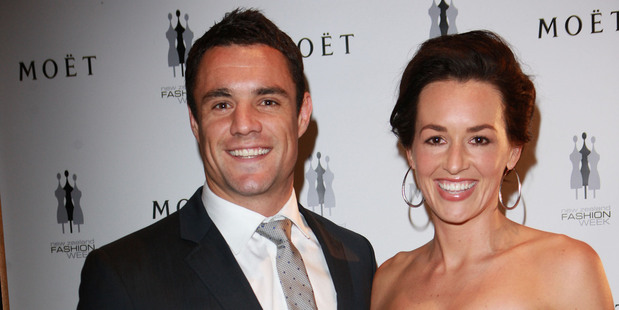 It seems New Zealand has its own Tiggy Legge-Bourke, the nanny of Prince William and Prince Harry. Meet Aucklander Annemieke Pritchard, who once cared for a young Max Key and is now reportedly nannying for the little prince of rugby, Marco Carter (son of Dan and Honor).
Last week Spy overheard a "cute as" conversation between Pritchard and a friend, doting over a baby in a stylish pram. The baby was introduced as young master Marco Carter. The trio were at the newly refurbished Rosies Cafe in Parnell, a favourite hangout of the Keys and the Carters.
Spy contacted Pritchard for comment, but like a true professional, she wasn't talking.
Pritchard, 49, is a woman of many talents and calls her style of childcare "Fairy Jobmothering". She is an account manager at Jolly Good Films and, curiously, in 2003 she appeared in a reality show, Girls Behaving Badly. Perhaps Kim Dotcom should get in touch - he's looking for a nanny for his five kids since his wife Mona left their Coatesville mansion. A deportation threat is still hanging over his children's nannies.
Colin loves...
This week, Colin Mathura-Jeffree is gracing the cover of gay magazine Express, and also features in the New Zealand Woman's Weekly where he confirms: "I'm in love with a man."
CMJ has always played his cards close to his chest when it comes to his love life, so the admission was a big one. So what has the reaction been? "I have had a lot of people being very nosy," he told Spy. This may be because he refuses to tell anyone the name of the new love of his life. Why so coy, Colin?

Colin Mathura-Jeffree and Andrew Giles.
"You can guess away, but I prefer to keep my private life private." Hmm ... those magazine covers would suggest otherwise.
According to his inner circle, the mystery man is Andrew Giles, a manager at Urban Cafe in Newmarket.
Giles would not discuss the relationship, but the friends have spent a lot of time together this year. The pair were spotted together at two events on Thursday.
Agony uncle
Kiwi-born New York-based blogger Isaac Hindin-Miller has been living in the Big Apple for three years, writing for GQ Magazine, the New York Times and his blog Isaac Likes, covering fashion from every angle. Now, he's also blogging on relationship advice.
"I see it more as an evolution rather than a change, per se. I guess I got to the point where I'd travelled to all the fashion weeks, I'd written for a lot of the publications I always dreamed of writing for, and I'd seen and done everything I hoped I might in the fashion industry, but I always had this nagging feeling of not quite being fulfilled by what I was doing."
Miller also admits he prefers the advice column of his blog as a natural progression from fashion, even though some questions are harder than others.
"Mate, once you've failed so spectacularly at a few relationships like I have, I think you're extremely qualified to tell people what not to do."
The Director and his Muse
When one of New Zealand's most famous directors turns up on the social scene with a star from one of his movies, and not his wife, tongues begin to wag.
Last week Andrew Adamson (Shrek, The Chronicles of Narnia, Mr Pip) flew in from Russia for the New Zealander of the Year Awards, for which he was nominated.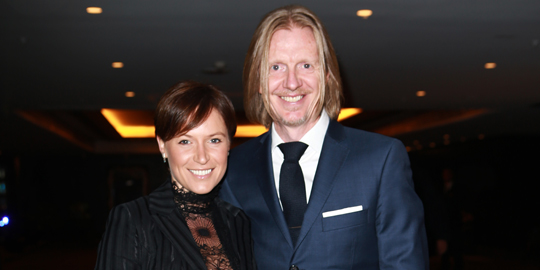 Gyulnara Karaeva and Andrew Adamson. Photo / Norrie Montgomery
But his wife, Nikki Donald, wasn't by his side. Instead, one of the stars of his 2012 movie Cirque du Soleil: Worlds Away was on his arm - Russian performance artist, Gyulnara Karaeva.
Karaeva stars in Cirque de Soleil's sensual Zumanity, currently showing in Las Vegas.
She's best known for her "Water Bowl" act, where she glides through hundreds of litres of water in a variety of poses. Her blend of contortion and acrobatics has seen her featured in magazines including Time and Playboy, and appear on The Tonight Show with Jay Leno.
A housekeeper told us the Academy Award-nominated director no longer lives at the family's Central Auckland home.
Spy called Adamson and Donald, who have two children, but neither would comment. "I am sure that there are more important stories in the world," Donald said.
The Hart family vacation
Just like in National Lampoon's Vacation, New Zealand's richest family has gone all Griswold and is touring the United States in a campervan.
Playing Chevy Chase's famous role of Clark Griswold is Graeme Hart, whose US family tour started in the desert surrounds of Utah and has moved on to Colorado. The Hart family has done it differently from the Griswolds, though. They have gone for a giant Cyclone Fifth Wheel Toy Hauler.
The Hart-mobile takes "camping" to a new level. It has all the comforts of home and a mean set of wheels. A new Cyclone costs more than US$100,000 ($117,000).
While a handful of other Kiwi rich-listers moor their boats in the Med for "the season", the Hart family have left the private jet and super yacht to go on a family-friendly jaunt. On the trip with poppa Hart is wife Robyn, daughter Gretchen and her husband Duncan Hawkesby, and son Harry and his girlfriend Becks Stiassny.
The family seems to have had fun weaving their way through trailer parks.
Mother and daughter have posted funny anecdotes about trailer park trash to social media, and Gretchen posted a picture of their hillbilly neighbours with a cat on a leash.
Cute Couples
Spy has noticed two blossoming romances in Auckland, just in time for winter cuddles.
First is the hook-up between model Samantha Shorter and director of social media group Contagion, Tommy Bates, Samantha Hayes' ex. He must love the name.
Shorter is an Auckland model who has been based in LA, but recently returned as one of the MTV VJ competition hopefuls. It's not known if she is sticking around for the long haul, but with Bates regularly flying to LA on business it looks like a partnership that may last the distance.

Clint Robers and Lucy Slight.
Next up is Edge host Clint Roberts, who is dating another woman with MTV connections, Lucy Slight. Having previously worked for MTV Australia, Slight was linked to U Lives' Connor Nestor but is now open about her romance, tweeting her new beau: "If I ever break my right arm & can't do my own makeup, please NEVER offer to help me", after Roberts and his Edge co-host Guy Williams had a fight, for a show stunt, using a makeup foundation sponge.