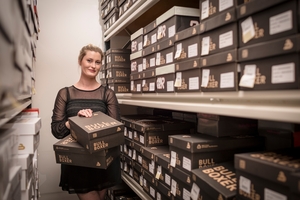 Retail chain Overland Footwear stepped forward to take first prize in this year's Kenexa Best Workplaces Awards last night.
The company has taken part in the annual staff survey eight times previously and was the overall winner last year. Their winning streak continued last night when the firm came top in the survey's large business category as well as being announced the overall winner once more.
Overland Footwear employs more than 400 people in New Zealand and 50 in Australia, and 85 per cent of its staff took part in the online survey (only the responses from New Zealand staff were included in survey results).
"The result is fantastic and is confirmation that all the stuff we do here is working, continues to work, and it's really great," says Overland Footwear CEO Shane Anselmi.
He says the main purpose of taking part in the survey is to check how well the firm is engaging with staff in its office and its 49 New Zealand retail stores.
"The survey helps us understand what we are doing well, and what we could be doing better," says Anselmi.
"The benefit we get from seeing the results is priceless. It is amazing the level of detail you can drill down on - it can isolate groups of people and how they are feeling about different issues and give us a chance to resolve them for the staff."
He says the company wouldn't be what it is today had it not decided to take part in the survey nine years ago when it was run by JRA.
"I think the engagement we have with our people rubs off on to our customers," he says. "We are known in the fashion retail industry to have great people and, as a result, we outperform the market.
"Without a doubt, if we hadn't gone down the road of these surveys we wouldn't be the firm we are today. The feedback gleaned from each survey allows us to home in on any areas of opportunity to further engage our people."
Anselmi says 90 per cent of the firm's staff are salespeople and the 2011 survey identified a group of store managers who didn't feel as engaged with the firm as people working in other areas of the company. The managers wanted more career development, leadership training and opportunities.
The firm now invites store managers to a two or three-day conference four times a year. Assistant store managers can attend their own conference twice a year.
"That has been a continued focus for us over the last two years. And we have seen those results lift," he says, "Now our managers are able to develop their own staff. We have really upped the ante to get our guys equipped for leading and managing people."
Anselmi says the survey has helped mould the firm's recruitment choices over the years, encouraging it to focus on people who like helping others.
"There is a recognition that we need 'people' people, staff who get joy out of interacting and engaging with others," he says. "People who will go the extra mile for our customers and their colleagues.
"Feedback from our salespeople has definitely influenced how we recruit. We have a high-performance culture and it is not for everybody.
"So the survey does help us to realise that, and help equip our store managers to focus on recruitment that will attract people who do thrive in our culture - we track the sales results of each member of staff very carefully."
Overland Footwear was one of 243 organisations, collectively employing almost 39,000 people, whose staff took part in the 2013 survey between May and August.
In all, 43 companies reached finalist status across five categories; small, small-medium, medium-large, large and enterprise.
Survey organiser Kenexa is owned by IBM.
Sanchia Yonge, the managing director of Kenexa NZ, says: "Year on year we're seeing more businesses in New Zealand viewing participation [in the survey] as a critical tool to help determine the drivers of business performance and pave the way for future success."
She says the Best Workplaces survey has become a "definitive measure" of "employer of choice" claims made by companies.
"Understanding what makes employees want to come to work and do well in their jobs is essential for success in today's market," says Yonge.
The finalists for 2013 represent a broad spectrum of business.
More than half of this year's finalists (58 per cent) also achieved finalist status in 2012.
"This demonstrates the success of employee engagement programmes and the increasing importance employers are placing on maintaining them," says Yonge.
Steve Hart is a freelance writer at SteveHart.co.nz