Elisabeth Easther explores why the 'Pearl of the South' deserves its name.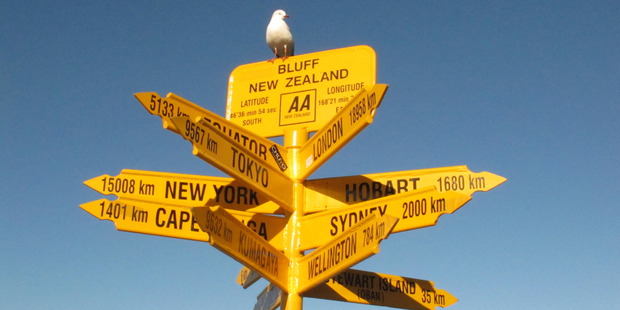 Origin of name: In 1856 the area was called Campbelltown before being renamed Bluff in 1917 after Motupohue (Bluff Hill). Motupohue means "island of convolvulus".
Population: 1850 (2006 census).
Where it is: In Southland, 30km from Invercargill, on the southern coast of the South Island.
Town slogans: "Pearl of the South" or "Gateway to Stewart Island". Locals sometimes call it "The Gold Coast".
Famous local: Sir Joseph Ward, New Zealand's 17th Prime Minister, is buried in Bluff and was mayor here for a spell.
Infamous locals: A concert pianist and a former CIA agent currently call Bluff home.
Best radio operator: Mary Leaske operates Bluff Radio, serving commercial and pleasure crafts. Tell Mary when you'll be back and if you don't radio her, she'll call you and sound the alarm if needed.
Town mascot: A giant oyster shell with a sailing ship inside it on the main street. And the oyster itself.
Fancy that: Bluff is said to be one of New Zealand's earliest European settlements, thanks to the whalers and sealers of bygone days. The first record of a boat entering Bluff Harbour was in 1813 when a Sydney expedition was sent to report on the possibilities of trading in flax.
Fancy this: There are 150 community groups in town.
Best website: bluff.co.nz.
Prominent industries: Fishing, tourism, Tiwai Pt Aluminium Smelter and the container port.
Town fiestas: Bluff Oyster and Food Festival, Tour de Southland, the Burt Munro Challenge Hill Climb.
Best place to take kids: The top of Bluff Hill, Stirling Pt Park or any of the coastal walks where you'll see birds, seals, whales and dolphins if you're lucky.
Best place to get a drink: Foveaux Hotel. Great for food, beer or a bed - they hold regular music recitals, too.
Best food: The Galley Fish 'n' Chip shop or the Drunken Sailor Cafe. The Anchorage is also good for a beverage.
Best flat white: The Lighthouse Gallery for coffee to go; wait for the Stewart Island ferry while wandering around looking at the art. Or sit at Stella's and eye up the pies.
Best museum: Bluff Maritime Museum on Foreshore Rd is filled with treasures from the deep. Ancient oyster boat The Monica is on display, too.
Best bakery: Stella's for oyster pies, muttonbird pies and other delicacies.
Best art gallery: The Lighthouse Gallery exhibits the work of 24 local artists.
Best walks: The Heritage Walk through town is loaded with gems. Or trot up Bluff Hill where there's 20km of walking tracks.
Best view: From the top of Bluff Hill you can see Stewart Island, over to Riverton and even up to the Catlins on a clear day. Three-hundred-and-sixty degrees of panoramic beauty.
Best mountain biking: There are several clearly sign-posted tracks on the way to Bluff Hill.
Best place to pull over: Stop at the famous sign post that tells visitors how many kilometres to London, New York, Sydney and other places of note. There are tables for visitors to sit at and watch the ships.
Best playground: There are loads of good parks. One really good one is next to the Lighthouse Gallery - it's a great place to stop for lunch and for kids to let off steam.
Here for a short time: Take one of the coastal walks - choose between 15-minute strolls to three-hour hikes.
Best adventures: Fishing charters, shark diving, hunting for oysters, paua or mussels, or fishing for salmon from the historic wharf. Take a fishing charter or do a day trip with Stewart Island ferries and Real Journeys.
Best swim: Bluff Swimming Pool just turned 40 and is good for a dip if you don't like cold water. Or try Omaui, a little settlement 10km from Bluff, or the mouth of the Oreti River - when the tide's out the sand bar makes big rock pools.
Wildlife: There are loads of pelagic seabirds; also dolphins, whales and seals, penguins, especially little blue ones, mollymawks and moreporks. Buller's albatrosses, muttonbirds, tui, bellbirds and kereru, too, plus a wide range of native plants, some of which are very rare.
Safety warnings: If you're taking part in marine activities, beware the severity of the tides out of Bluff and the changing weather conditions - be prepared.
Locals say: This is the start of State Highway 1.
Visitors say: This is the start of a brilliant adventure.
Thanks to Jason Steele from Real Journeys and Sue Lattimore from the Lighthouse Gallery - local flavour given freely.