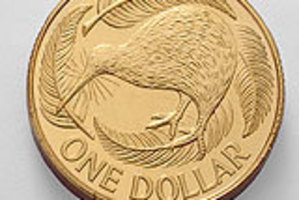 A currency strategist says the New Zealand dollar is "yo-yoing" today as traders react to news headlines from the United States, where a political deal to raise that country's debt ceiling and avoid a default is yet to be reached.
The kiwi was trading at US83.82c just after 7am, before falling to US83.68c an hour later and then climbing back to US83.81 by 9am. It had fallen back to US83.54 by 11.15am.
Earlier this morning, US politicians were reported to be edging closer to reaching a deal as that country's Government entered its 14th day of shutdown.
The White House then announced the talks on raising the US debt limit beyond US$14.7 trillion before the Thursday deadline had been delayed, the BBC reported.
If an agreement is not reached the US could default on its debt and potentially spark global financial chaos.
Westpac senior markets strategist Imre Speizer said the currency market was focussed on events in the United States and the New Zealand dollar was rising on news that a deal might be near - which boosted demand for higher risk currencies like the kiwi - and falling on other headlines that said the opposite.
"The kiwi is yo-yoing on the headlines that are coming out of Washington," he said. "No one knows what's going on."
Speizer said that if the US defaulted on its debt, risk sentiment would plunge.
"That would hurt the kiwi a lot."
BNZ currency strategist Mike Jones said the kiwi had been trading with an "upward bias" this morning on optimism that a deal would be reached.
"All we can be really sure of is there will be uncertainty and volatility because in reality nobody really what US politicians are going to come up with," Jones said. "The big risk to the kiwi is the US entering a technical default and under that scenario the US dollar would suffer for sure but the kiwi would suffer more. In fact the kiwi would probably underperform every major currency given its high risk status."
He said "severe risk aversion" could result in the kiwi dropping at least 2c against the greenback.
It was hard to be confident that US politicians would seal a deal on the debt ceiling, Jones added.
"I guess the recent headlines have been a bit more encouraging."