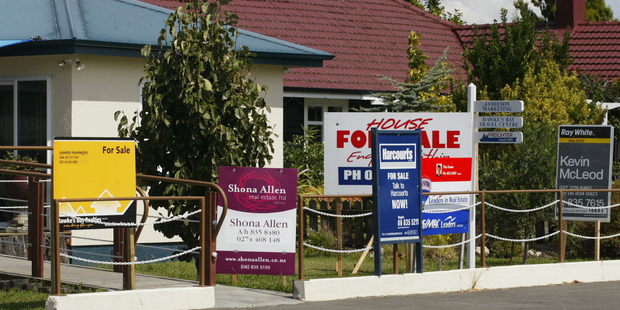 The number of first home buyers in the market since the introduction of controversial new Reserve Bank mortgage restrictions last month has plummeted, real estate agents are reporting.
Almost all measures in the latest monthly Bank of New Zealand - Real Estate Institute (REINZ) Residential Market Survey indicated the market had softened over the last month.
That included the proportion of real estate agents who were noticing more first home buyers seeking properties.
The survey of 420 agents found a net 41 per cent noticed fewer first home buyers, a sharp turnaround from September when a net 24 per cent of agents notices more first home buyers.
"This is the weakest and only negative result since our survey started in April 2011," BNZ chief economist Tony Alexander said.
However Alexander did not expect the perceived lack of interest by first home buyers to persist.
He said first home buyers were likely to be back in greater numbers once they got used to the new rules, as more qualified for the new minimum deposit rules, as more found find alternative finance, and as some shifted their purchasing focus to parts of New Zealand other than Christchurch and Auckland.
Meanwhile there were also wider signs of a softer market with a net 16 per cent of agents saying there were fewer people going to open homes.
"This is a strong sign of cooling activity and the weakest result on record", Alexander said.
A net 9 per cent of real estate agents reported more investors in the market, down from 26 per cent in September but a net 41 per cent of agents still perceived prices were rising which was well above the average reading of 32 per cent.
Alexander said the survey revealed the market had lost momentum.
"The question now is how quickly it will regain it."
Labour's housing spokesman Phil Twyford said the survey results offered the first clear evidence that the Reserve Bank's loan to value (LVR) lending limits, which imposed a 20 per cent minimum deposit requirement for many lenders were beginning to bite.
"It is clear first home buyers are paying the price of the Government's mishandling of the housing crisis. They have been forced out of the market, giving speculators a free hand.
He also pointed to Reinz's survey of house prices out today which showed that just 5 per cent of house price growth occurred outside Auckland and Christchurch.
"Yet LVRs apply to the whole country. That doesn't make sense. Provincial New Zealand is being hurt by a policy that is trying to solve a problem that exists only in Auckland and Christchurch."
"So in spite of John Key's crocodile tears back in June when he talked about a carve out from the lending restrictions for first home buyers, a full month after the Government had signed off the agreement with the Reserve Bank paving the way for these tools to be used, this policy is hammering first home buyers, the very people the Government should be looking after."