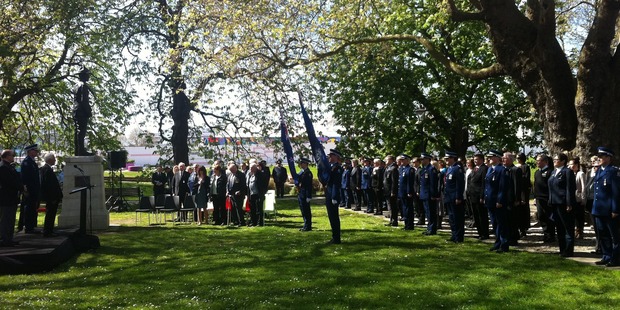 The pain of losing a son hasn't eased with the passing of time for Beverley Lawrie.
Her only child, Sergeant Don Wilkinson, was shot dead in an undercover police drugs operation in Auckland which went badly wrong five years ago.
But to attend the Police Remembrance Day today and be surrounded by serving officers, former colleagues of her son, and friends was "heartening", she said.
"I only had one child, so the loss is always going to be there," the 73-year-old Oamaru mother said after a service attended by around 80 officers in Christchurch this morning.
"[But] it's a good day to remember, and it's good to remember in the company of others who are colleagues and family."
Mr Wilkinson, 46, died instantly from a single gunshot wound to the chest during a covert drug operation in Mangere, south Auckland on September 11, 2008.
His killer John Ward Skinner is serving a 15-year stint behind bars.
Mr Wilkinson is one of 29 New Zealand police and traffic officers slain in the line of duty since July 30, 1890, when Constable Neil McLeod was shot dead aboard the steamer Minnie Casey at Mangawhare Wharf, near Dargaville.
Remembrance Day services were held across New Zealand, Australia and the south west Pacific today to honour the service of police staff.
The national commemoration was held at the Royal New Zealand Police College.
In Christchurch, at a 20-minute service at the Park of Remembrance on the leafy banks of the river Avon, acting Canterbury district commander, Superintendent Andy McGregor paid tribute to those who had "paid the ultimate sacrifice".
"And we pay respect to the families of the men and their children who grew up without their fathers," he told the gathering, which included serving officers, civilian staff and representatives from the Fire Service, Corrections, and HMNZS Pegasus.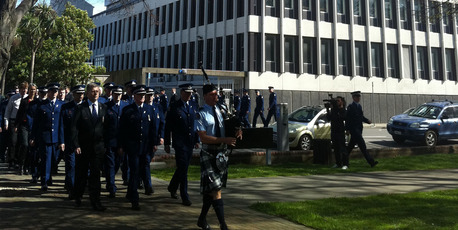 Mr McGregor also paid tribute to all members of police, serving and retired, who had died in the past year.
Serving officers were acknowledged for continuing to "put themselves in harm's way" in the line of duty, and in helping rebuild the earthquake-ravaged district.
After the service Mrs Lawrie spoke about her beloved son she called 'Donny' who she said "enjoyed his job".
He'd lived an action-packed life and been in "some fearful hotspots", having worked at the Government Communications Security Bureau (GCSB), spent a year in the South Pole as a meteorologist, and at the United Nations before joining the police.
Former colleagues of Mr Wilkinson meet up for a "fun" remembrance weekend in Auckland around this time every year, she said.
"September is always a bad month for me."