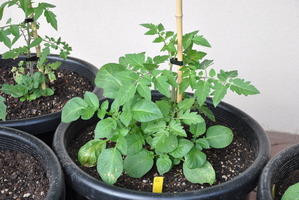 Top chef Simon Gault has branded a new hybrid plant which grows both potatoes and tomatoes a "gimmick".
But the MasterChef judge is intrigued enough by the 'Potato Tom', which hits garden centre shelves in a worldwide first this week, to want one for his own garden.
"I could make homemade ketchup ready for my spuds to turn into chips," he said.
The Potato Tom was devised by a mystery Bay of Plenty nurseryman who its producers, Tharfield Nursery, is keeping as a well-guarded secret.
The Potato Tom brings a grafted tomato and potato together in one plant.
"We grow the potato, it sprouts, we cut it off and we attach the top part of the tomato onto that. They knit together and form one plant, with the potatoes forming under the ground and the tomato grows on top," says Fiona Boylan of Katikati's Tharfield Nursery.
Gault's problem with the plant lies in the fact the produce is not ready at the same time.
Although the Agria potatoes take only 90 days to come to harvest, they need to wait until all of the tomatoes are finished, by the end of summer.
Only then can the potatoes be harvested.
"So what's the point?" asked Gault.
"It's a 100 per cent a gimmick, but I'd still like a couple of plants for my garden to see what they're like."
Potatoes were always best when they are fresh, the master chef said.
So, he's keen to make some semi-dried tomatoes from the above-ground crop, and when it's time to bring the potatoes up, turn it into a tasty frittata.
Mrs Boylan said their mystery nurseryman had been growing and trialling the crop for around five years.
"He brought us the plant and asked if we wanted to put it under our Incredible Edibles brand. It was something really exciting," she said.
The graft had been done overseas before, she said, but not on a commercial level.
North Island nurseries will receive the plants this week, and the South Island will be wowed by them next week.
The Boylans said they were experimenting with other fusions, but were keeping them under wraps.
"People will just have to watch this space," Mrs Boylan said.