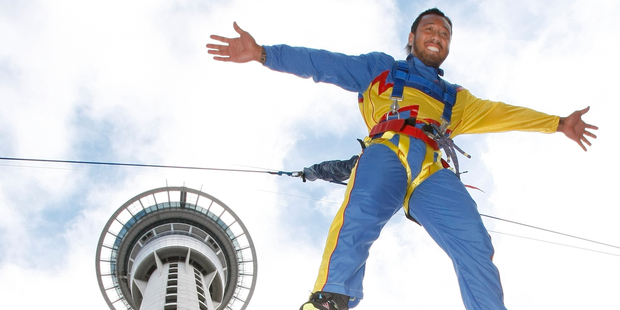 1. SkyJump off the Sky Tower
If freefalling at 85km per hour off the Southern Hemisphere's tallest building is what you need to get your heart pumping, you can't beat a SkyJump. This will be the longest 11 seconds in your life, before you come to a very smooth landing in the Sky City plaza below. If that is not enough, you could add a SkyWalk on the 1.2m-wide walkway around the tower, a mere 192 metres above the ground, with no handrails and nothing but air either side of you.
SkyCity, 80 Federal St, Auckland. Ph 0800 SKYJUMP skyjump.co.nz. Kids $175, Adult $225, Look and Leap (walk and jump) $290.
2. Canyon in the Kauaeranga
A guided canyon trip through stunning landscape of steep waterfalls and cliff faces. The Sleeping God/Atuatumoe is a vertical descent of over three hundred metres down a steep set of waterfalls involving abseils/rappels of up to 80m, exhilarating water slides and jumps into deep dark pools which are guaranteed to thrill the most intrepid explorer (you've been warned - big jumps are optional, abseils/rappels are not).
All gear is provided, expert guides, safety instructions.
Canyon NZ, meet at Thames i-Site. Ph 0800 422 696 canyonz.co.nz. Sleeping God Canyon trip $360.
3. Swim with sharks
Get right up close to magnificent ocean creatures with a shark cage experiences - snorkel in a cage in Kelly Tarlton's predator tank or get even closer with Shark Dive Xtreme, the ultimate cage-free experience.
Kelly Tarlton's 23 Tamaki Drive, Orakei Ph. 0800 80 50 50 kellytarltons.co.nz. Shark cage from $76 per person, extreme $230 walk-up (online $184, certified divers are less).
4. Take to the skies Experience
Join the XFlight Aerobatic Team - more commonly competing at top level aerobatic competitions or air shows - for thrill rides of aerobatics above the city in the Extra 300. With a top speed of 400km you'll be assured of an extreme adrenalin fix. Packages range from the basic (12 minutes, 4 stunts) to the advanced (20 minutes, 2 stunts, XXXX extreme rating). Kids under 18 need parental permission.
Xflight, 500 Harvard Lane, Ardmore Airport, Papakura. Ph 0800 XFLIGHT xflight.co.nz. Flights start from $295.
5. Bungy jump off Auckland Harbour Bridge
Bungy originals A.J. Hackett Bungy brought us the world's first harbour bridge bungy jump. Forget driving over the bridge or admiring the view, leap off it. Includes New Zealand's only ocean-touch, choice of bungy and a free jump T-shirt. Add on a bridge walk on custom-engineered walkways for a safe, enjoyable experience
AJ Hackett Bungy, Auckland Harbour Bridge. Ph (09) 360 7740. ajhackett.com. Climb adult $120, child $80. Bungy adult $150, child $120, spectator $20.